Courtney Love: Katy Perry 'Bores Me,' Asks 'Who Is Robin Thicke?'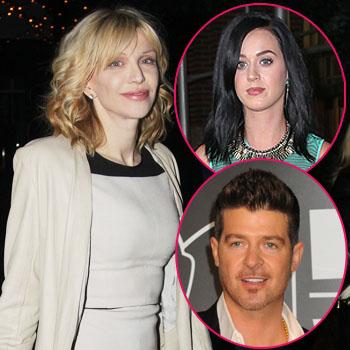 Courtney Love talked major trash on two of today's most successful pop stars -- Katy Perry and Robin Thicke -- and we've got all the details for you right here on RadarOnline.com.
The Hole singer, speaking to the NY Post after a gig at Dream Downtown Monday, defended Miley Cyrus' and her controversial VMAs performance, before launching into a diatribe on the Firework singer.
"Katy Perry bores the bleep out of me," the 90s rocker said. "She's a nice girl, she just really bores me."
Article continues below advertisement
Katy wasn't the only one catching shrapnel from Courtney's loose lips: She took a swipe at the Blurred Lines singer Thicke, who was Miley's dance partner during her controversial twerking incident.
"Can someone inform me who Alan Thicke's son is?" Kurt Cobain's former wife asked. "Like what? Wasn't he on 'Charles in Charge'?
"That's like Jared Leto trying to convince me he's a rock star."
Readers, your thoughts: Is Courtney dead on with her appraisals, or is she stuck back in 1995?