Simon Cowell Seen Kissing Mistress Last Year, As Both -- And Her Jilted Husband -- Comment On Love Triangle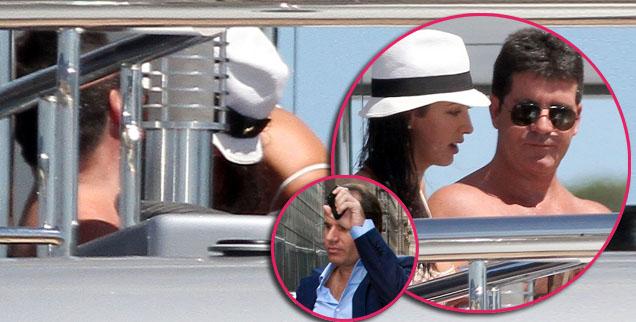 It's the story everyone's been talking about -- Simon Cowell impregnating Lauren Silverman, the wife of his pal Andrew Silverman -- and we've got the latest on the scandalous situation, including comments from all involved parties, as well as newly-acquired images (taken last year) of Simon kissing Lauren.
The new pictures show Cowell and Lauren -- who met each other seven years ago on a Barbados resort, with Simon striking up a fast friendship with the couple -- kissing on a boat in St. Tropez, France last year, another indicator the affair went of for some time.
Article continues below advertisement
On Thursday, the music mogul responsible for American Idol, The X Factor and Britain's Got Talent acknowledged the touchy situation during a meeting of the Television Critics Association in Beverly Hills.
"I haven't read the newspapers, unfortunately at this moment I have to keep it private," Simon, 53, said when asked it, later telling People, "There are a lot of things I will eventually clear up when the time is right, but I really have to be sensitive because there's a lot of people's feelings involved here."
The 36-year-old Lauren, who's reportedly 10 weeks, was the belle of the ball in The Hamptons Thursday, as she left one of her residences (she and Andrew also own a home on New York's Upper East side) in the eye of the media storm.
"I am committed to sorting things out with Andrew as amicably as possible to ensure the well-being of our son," she said in a statement Thursday. "I would hope for some space and privacy in order to work through this."
Article continues below advertisement
Real estate developer Andrew, 37, took a similar high road in a statement he issued, citing the feelings of his 7-year-old son with Lauren, who's also named Andrew.
"My top priority is protecting my 7-year-old son while working to resolve all outstanding issues with my wife," the cuckolded Hamptonite said. "Hopefully people can respect the interest of our child during this process."
As we previously reported, Andrew's understandably been infuriated with the chain of events, and has even named his former friend Cowell in divorce papers connected to the split. Insiders have slammed Lauren for her actions since the news became public, as one told the NY Post she's "a total gold digger," while another claimed her pregnancy with the Idol infant was completely "by design."
Stay with RadarOnline.com for more on this shocking story.