Shaken, Not Stirred: Simon Cowell Hangs With Bikini Beauties In France, After Meeting With Husband Of Baby Mama-To-Be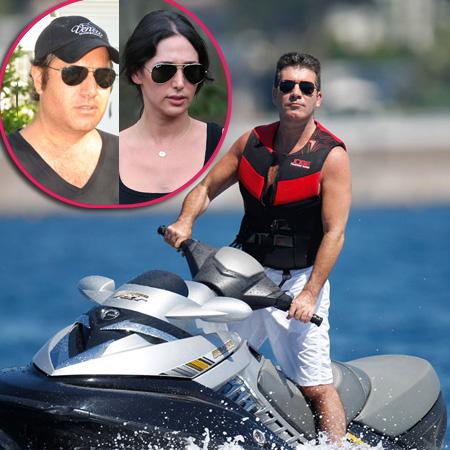 After a top-secret meeting in The Hamptons with Andrew Silverman, Simon Cowell jet off to the South of France, where he relaxed on his boat flanked by three bikini beauties after a whirlwind week in which he found himself in the unusual position of being tabloid fodder.
The music business's answer to James Bond enjoyed the summer weekend, and didn't look stressed at all despite the recent drama, letting off steam on his jet-skis. Simon's meeting at Francis S. Gabreski Airport in the Hamptons, insiders told the NY Daily News, came more than a week after news broke of his torrid baby-making affair with Andrew's wife, New York socialite Lauren Silverman.
Article continues below advertisement
Andrew, 37, who named Simon, 53, in his pending divorce from the 36-year-old Lauren, met Simon for the first time since the affair became grist for the news mill, in hopes of quashing the public bad blood and keeping the embarrassing situation in-house.
"Everyone is trying to resolve this amicably," a source told the paper, noting that "Andrew and Simon have been friends for six years so there is a lot of history there. They met in private because so much about this story has leaked out to the press and they really wanted this to be between them."
Insiders told then paper they expect the one-time Upper East Side "It" couple, who have a son named Andrew, aim to put the finishing touches on their divorce agreement this week, as "everyone is conscious that there is a 7-year-old boy that is the priority here."
A London insider connected to Simon said that all parties involved "are working everything out as best they can.
"Simon is happy and excited and in a great place," the source said. "He is supportive of Lauren and looking forward to becoming a dad.
"Everyone is trying to sort this out fairly and quickly."