New York Yankees to A-Rod: Your Doping Caused Your Injuries!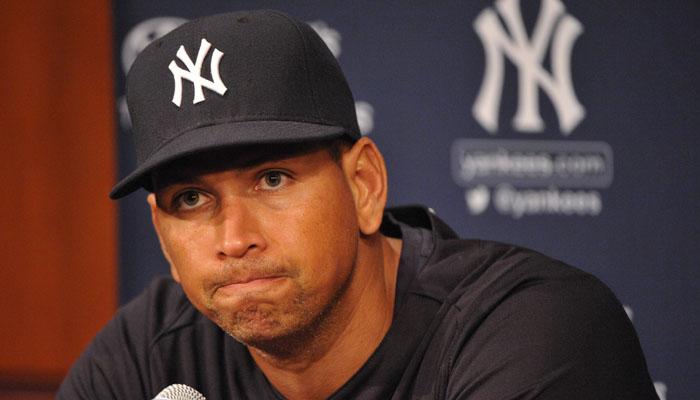 As Yankees slugger Alex Rodriguez continues to battle allegations of doping, his legal team is attempting to deflect attention by filing a medical malpractice suit against the team medic, Dr. Chris Ahmad. But now, RadarOnline.com has learned, the Yankees would gladly face down such a lawsuit -- because they plan to argue that it was A-Rod's use of illegal steroids that caused his injury in the first place.
Article continues below advertisement
According to sources in A-Rod's camp, Dr. Ahmad incorrectly diagnosed a hip injury that the baseball slugger suffered last year during the play-offs. Rodriguez ultimately had surgery on his left hip and was sidelined until July.
But the Yankees "believe that Alex's use of illegal steroids was what caused his hip injury," a team insider told RadarOnline.com exclusively. "Alex complained during medical examinations that it was his right hip that was ailing and mentioned nothing about the left hip. The suggestion that the Yankees and Dr. Ahmad were in cahoots to misdiagnose Alex are absolutely ridiculous."
If Rodriguez proceeds with a medical malpractice suit, the source says the Yankees organization "will begin a very thorough discovery process which will include Alex's medical records. Those medical records will be filed with the court and will be available to the public."
"The Yankees organization is fed up with Rodriguez and these outrageous claims being made by his advisers," says the source. "They are attempting to once again deflect attention from the real issue, Alex's use of steroids."
Article continues below advertisement
If the case goes to trial, "The Yankees would immediately seek to depose Alex and force him to answer under oath about his use of steroids," says the source. "He will have to answer the questions truthfully and under penalty of perjury."
A-Rod was recently slapped with a 211-game suspension for allegedly using steroids. He is appealing the punishment and continues to play for the Yankees as he continues to threaten a malpractice lawsuit.
The Yankees said in a statement about the pending lawsuit, "We relied upon Dr. Christopher Ahmad and the NewYork-Presbyterian Hospital for medical diagnosis, opinions and treatment. The Yankees neither had any complaints from Alex Rodriguez pertaining to his left hip during the 2012 regular season and the Yankees postseason, nor did the Yankees receive any diagnosis pertaining to his left hip during that same period of time. Given the various allegations that have been made by Alex Rodriguez and his counsel, if you have any medical questions they should be directed to the NewYork-Presbyterian Hospital and Dr. Christopher Ahmad."
Request for comment from Dr. Ahmad & A Rod's attorney, Joe Tacopina weren't immediately returned.