Exclusive
Lindsay Lohan's Rehab Addiction: Online Shopping!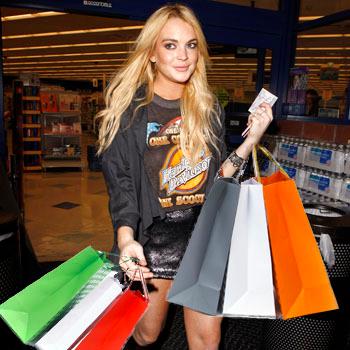 Lindsay Lohan had an addiction while in rehab that just couldn't be curbed: Online shopping.
The troubled actress spent much of her time at Cliffside Malibu browsing various Internet websites, buying an outrageous amounts of goods -- often spending up to $5,000 per day, a source exclusively told RadarOnline.com.
"Lindsay would shop online ALL day. It was like an addiction," a former patient who attended rehab with Lindsay told Radar.
Article continues below advertisement
"She would drop $5,000 a day no problem. Mostly on clothes."
But according to the insider, Lindsay's constant stream of deliveries to the rehab center became too much for both the patients and the center to handle.
"The patients and the staff were so annoyed by all of the boxes being delivered to her," the source said.
"Eventually the clinic ran out of room to house all her purchases and told her she couldn't order any other items. It was crazy!"
And just how did Lindsay pay for all this?
"Lindsay bragged about some super rich guy in New York City that let her use his credit card," the insider revealed.
"We never asked who he was or why he would do that, but she didn't seem to have a hesitation about using his money for whatever she wanted."
As Radar previously reported, Lindsay had a boyfriend while in rehab who she also showered with gifts purchased online.
"The guy was nice to her, but it was fake. He would talk sh*t about her behind her back," the same source told Radar.
"Lindsay basically bought his affection. One time she bought him like seven pairs of shoes online at one time!"
Since being out of rehab, Lindsay's biggest purchase is a swanky NYC apartment she'll be leasing and living in on her own.