Nude Awakening: Explicit Pix Leaked -- Purportedly Of 'The X Factor' Judge Demi Lovato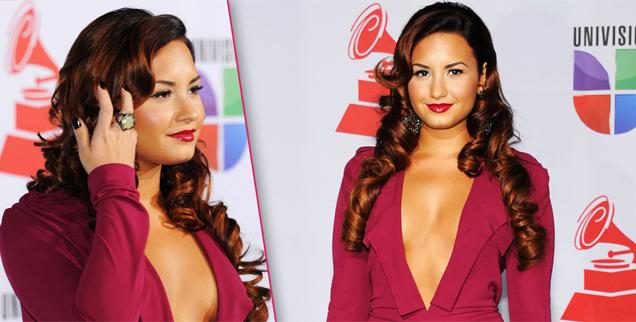 Demi Lovato appears to be the latest victim of a nude photo leak -- after multiple X-rated and self-shot pics apparently of the The X Factor judge were offered for sale to RadarOnline.com.
More than 20 purported images of the 20-year-old Firestarter singer were emailed to this website last week.
They show a dark-haired woman who looks identical to Lovato in a raft of compromising positions, including nude in a bath tub and lying topless in bed, among other poses.
Article continues below advertisement
RadarOnline.com has been unable to verify the breast-baring images are authentic, however the woman in the images has some tell-tale signs suggesting it is indeed the ex-Sonny with a Chance actress.
She has the same tattoos as Lovato, including 12 black birds on her right forearm.
The supplier of the candid images told RadarOnline.com: "These are Demi. The collection I have show some nude, including face, some including parts of the body Demi is known for -- tattoos, butt, chin. Then, I have pictures of her getting rowdy... I can guarantee you these photos are legitimately of Demi. "
If the naughty photos were to be published -- RadarOnline.com has chosen not to -- The X Factor's massive marketing and production plans could be thrown into complete turmoil on the eve of the third season.
It is not known how the naked images were leaked and whether Lovato is the victim of a cyber crook, however, her name has been brought up in the past as someone who was hacked.
A hacker was reported to have nude photos and videos of at least 50 female celebrities - including Scarlett Johansson, Selena Gomez and Miley Cyrus -- after they hacked into their cell phones and other devices to obtain the compromising images.