Tatum O'Neal's Face Has Drastically Changed! 'Injections, Botox & Chemical Peels,' Doctor Suspects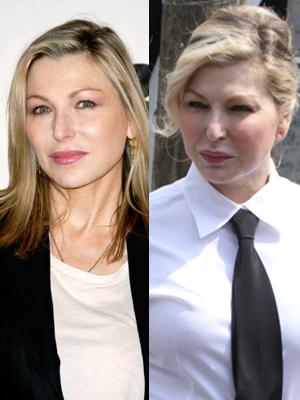 Tatum O'Neal's face looks drastically different in recent photos and a Beverly Hills doctor exclusively tells RadarOnline.com it looks like the actress has had a bevy of treatments, including injections, Botox and chemical peels.
Tatum was snapped while on the set of Squirrels to the Nuts in New York City on Wednesday and Dr. Anthony Youn, who has never personally treated her, tells Radar that her face has"drastically changed" over the years.
Article continues below advertisement
"Although weight gain can make a face look fuller, the amount of fullness is impressive," Dr. Youn said of Tatum's face.
"I suspect that she may have undergone injections of fat into her cheeks, which can occasionally balloon with massive weight gain."
Along with injections, Dr. Youn of Youn Plastic Surgery, says Tatum -- age 49 -- thinks Botox and chemical peels may account for her shiny, smooth skin.
" Her skin is smooth and pristine, which may be due to Botox injections and a series of chemical peels," he concludes.
As Radar previously reported, the troubled actress has struggled with addiction for years and entered into a Southern California rehab center last summer.
"Tatum is just really truly struggling with who she is as a person," a source told Radar at the time.
"It's very sad to see her still suffering from her addiction to cocaine."
Reportedly sober now, Tatum is filming Squirrels to the Nuts with Jennifer Aniston and Owen Wilson.
For more scoop on celebrity plastic surgery, visit Dr. Youn's blog and pick up his eye-opening memoir, In Stitches, available on Amazon.com.