Exclusive
Plastic Fantastic Or Au Naturel? Rundown On The Oscars: Which Star Wins The Award For Best Surgery?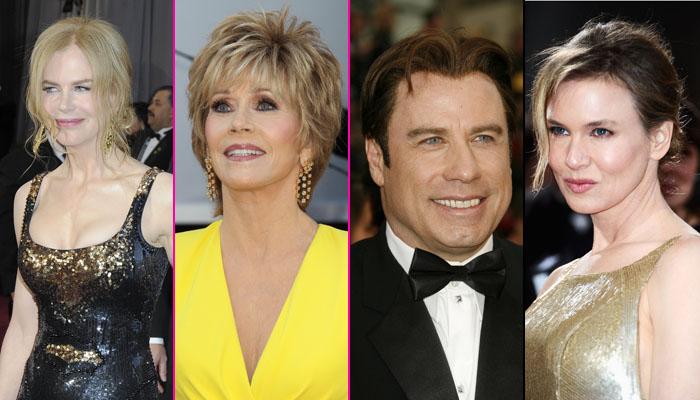 They don't call the Oscars 'Hollywood's biggest night' for nothing, and amidst the search for the perfect designer gown, million dollar jewels, and hours spent in the hairstylist's chair, a crucial part of the red carpet ready routine for many celebrities is a trip to their plastic surgeon!
While some deserve an Academy Award for fighting back the signs of age with class, other celebrities delivered over-the-top performances by attempting to appear much younger than they really are, and RadarOnline.com has the full run-down on the cosmetic surgery winners and sinners courtesy of plastic surgery expert, Dr. Anthony Youn.
Article continues below advertisement
"Naomi Watts looks amazing!" said Dr. Youn, who hasn't treated any of the stars mentioned in this story. Speaking of the 44-year-old Best Actress nominee for The Impossible, he said, "She might have had a little Botox in her forehead, but it is subtle and not overdone."
"Michael Douglas appears to have maybe had a recent facelift," explained Dr. Youn of the 68-year-old Wall Street star. "His jawline is perfect, which is unusual for a man his age, but he has to keep up with (younger wife) Catherine Zeta Jones!"
"John Travolta's hairline seems to move forward and back," speculated Dr. Youn. "Has he had hair transplants? I think so…"
"Halle Berry looked absolutely radiant, with flawless skin," gushed our expert, who believes the 46-year-old Oscar winner is mostly sticking to the natural path. "There is no obvious work here except good genes, expensive products, and maybe some chemical peels," he said.
"Renee Zellweger looked off a bit. I suspect that she may have undergone filler injections to her cheeks, maybe some Botox to forehead," he said.
Article continues below advertisement
"Sandra Bullock's forehead looked quite Botox'd, as there didn't appear to be any movement at all on her face. But, Botox or not, she's gorgeous, classy, and looks amazing," Dr. Youn opined.
"Jennifer Hudson looked like she may have had breast implants," said Dr. Youn. "She lost so much weight that her breasts shouldn't be so round and full as they are now, and I doubt it's just a push up bra!"
"Jane Fonda and Michael Douglas have matching necklines," Dr. Youn quipped. "She looks so young and so natural, it's amazing."
"Nicole Kidman's had some Botox in forehead and filler injections to frown lines and lips I believe," said Dr. Youn, adding that "it is more tasteful than it has been in the past."
"Barbra Streisand appears to have had fat injections in her cheeks and a facelift, but at 70 she still looks great!" Dr. Youn told Radar.
For more scoop on celebrity plastic surgery, visit Dr. Youn's blog at CelebCosmeticSurgery.com, and pick up his eye-opening memoir, In Stitches, which is available on Amazon.com.