Exclusive
Why The Puffy Face? Khloe Kardashian's Bloated Appearance Could Be 'Injections' Says Plastic Surgeon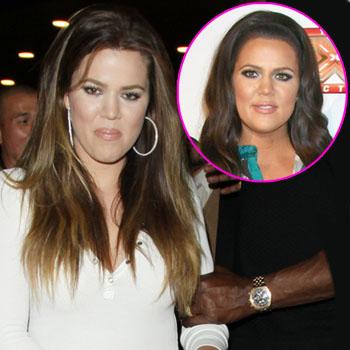 What has happened to Khloe Kardashian's?
The 28-year-old reality TV star was spotted enjoying a night out with husband Lamar Odom on Tuesday looking a little puffy in the cheeks and RadarOnline.com spoke exclusively with a plastic surgeon to get all the details on her new look.
Khloe, who hit up Los Angeles hotspot Supperclub for a meal and some live entertainment with the LA Clippers star, looked fab in a pair of super-skinny jeans that showed of her new slim-line figure — but something was awry with her face.
Article continues below advertisement
"Khloe looks great with a figure that rivals both her sisters, however when people lose weight their face actually become thinner," celebrity plastic surgeon Dr. Anthony Youn , who has not treated the former X Factor host, told Radar.
"Khloe's cheeks and lips actually look puffier than before. I suspect that she may have undergone injections of a filler like Juvederm, causing her face to appear puffy."
Dr. Youn added, "But, injections or not, she looks pretty darn good!"
As RadarOnline.com previously reported, Khloe told the British Cosmopolitan in their June edition that she's never had any plastic surgery, but is open to the idea in the future.
"It's so easy to fall victim to public bullying. I understand why so many people in this industry have eating disorders or want plastic surgery, and I'm proud I've done things the healthy way and haven't felt bullied into having my face operated on," she said.
"I'm not against it. When I'm older you never know."
For more scoop on celebrity plastic surgery, visit Dr. Youn's blog and pick up his eye-opening memoir, In Stitches, available on Amazon.com.