RHOC Star Tamra Barney Thinks About Adopting Baby, Says Brooks Ayers Not Good Enough For Vicki Gunvalson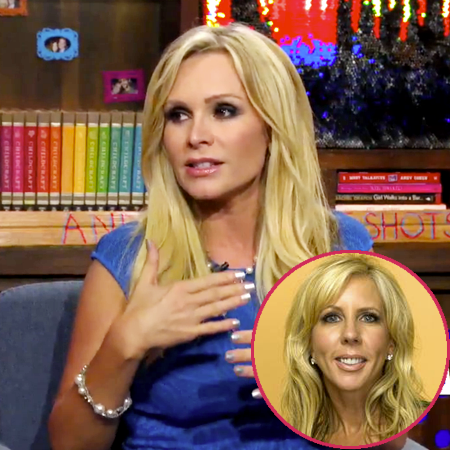 The Real Housewives of Orange County's Tamra Barney appeared on Watch What Happens Live Monday, and admitted that she's given thought to adopting a child, as well as offering her opinion -- or lack thereof -- about Vicki Gunvalson's beau, Brooks Ayers.
On Watch What Happens Live, a caller asked Tamra about if she's given thought to having a baby with her new husband Eddie Judge, but Tamra said her "biological clock has died," as she's had her tubes tied.
Article continues below advertisement
"However, we have talked about adopting a little baby from Mexico, or maybe surrogacy," Tamra said. "I have my hands filled with my beautiful kids … I don't want to be the mom in kindergarten that's like, 70 … I'm not up for that!"
Tamra said her new hubby loves her children, and that if he approaches her in the next year about having one of their own, they'll "talk about it then."
Then, Tamra was asked by another caller which one of her castmates' lovers she would rather spend a week with on a deserted island -- Brooks or Slade Smiley.
Tamra looked disgusted with the given options, telling Cohen, "That's a really messed up question," before launching into the reason why she's not a big fan of Brooks.
"I just feel that there's somebody better for her out there … first and foremost, I want Vicki to be happy, I think she has so much to offer … a lot of people who don't think he's right for her," she said. "Vicki's like my sister -- Vicki and I have a bond. 'Do I agree with everything Vicki does?' No."
Watch the video on RadarOnline.com
The Real Housewives of Orange County airs on Bravo Monday at 9/8c; Watch What Happens Live airs Sunday through Thursday on Bravo at 11/10c.