Diva Bride?! OC Housewife Tamra Barney Wore THREE Wedding Dresses During Nuptials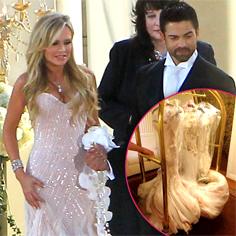 Real Housewives of Orange County star Tamra Barney stunned as she walked down the aisle to say "I do" to her third husband Eddie Judge at the weekend, but it was just one of three custom gowns she had made for the big occasion.
Designer Mark Zunino of QVC's Mark Of Style fame shared a photo on Twitter revealing 44-year-old Tamra's choices, which were complimented with a custom Diann Valentine cuff dripping with crystals and orchids.
Article continues below advertisement
"Tamra wanted it to be very dramatic, but fluid and sort of organic in design," Zunino told PEOPLE. "Originally she thought she would want white, but when she tried the blush on, she got the reaction of all her friends and that was that."
And the reality star was losing so much weight in the weeks before the wedding, the designer had to alter the dress multiple times!
"We originally had the flounce dropped more towards her knees," Zunino said. "The week before, she said 'I want it raised,' so we took it apart and raised it. And she was losing weight, so we kept taking it in more and more! She was really hands on, and very passionate about the design."
The second outfit was for the reception -- a "much sexier" hand-beaded and embroidered French chantilly lace gown with a plunging neckline.
The third: a short dress with a crystal-encrusted neckline and feather-appliqué flounce for the dance routine at the St. Regis Monarch Beach Resort in Dana Point, Calif.
"Eddie thought she looked great and was very surprised," Zunino added, "But the second gown didn't have the nipple covers in it before she went out. As she was rushing to change for the cameras, he said 'No way you're going out like that.' So I cut out a nude flounce from the wedding gown to quickly sew in the bust and she was ready to go."