NJ Officials Ban Snooki From Living, Taping In Beachside Town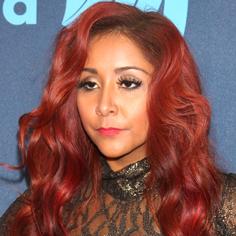 Snooki will not be getting crazy (or wild) on New Jersey's Pelican Island, as Berkeley Township officials, citing zoning ordinances, have put the kibosh on the reality star staying and filming her MTV show there in coming months.
As we previously reported, a segment of Pelican Island residents -- citing fears of distraction during ongoing rebuilding efforts after Superstorm Sandy ravaged much of the area last fall -- had hired attorney R.S. Gasiorowski in hopes of blocking Snooki and MTV from setting up shop there.
Article continues below advertisement
Gasiorowski on Thursday told the Asbury Park Press the decision made by town officials was a sound one, saying that the house Snooki planned to stay and film in "is in a residential zone and is in violation of their ordinance" for commercial endeavors such as an MTV show.
"There are other areas of the township where this type of activity could take place in zones where this would be covered," the lawyer said.
Snooki had not yet responded to the setback on her Twitter page as of early Friday, but was vocal in her anger after the town residents met for a meeting Monday in hopes of blocking her path to town.
She tweeted Tuesday: "Insult my son & fiancé, and I will go mama bear on your a**. #family #myeverything … If my 'actions' like playing with my son is bringing the wrong 'crowd,' obviously we are on too different pages here. I stick up for my fam."