NJ Island Residents Meet In Effort To Ban Snooki From Living & Filming In Their Town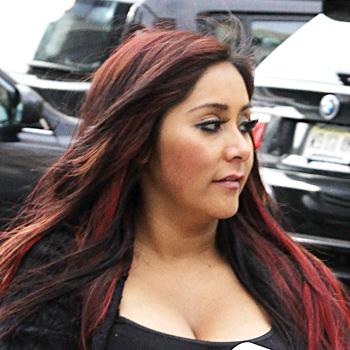 Snooki has struck at residents of New Jersey's Pelican Island who don't want her to stay there and film her MTV show -- and on Monday, the residents stuck back.
As we previously reported, a segment of Pelican Island officials and residents, citing ongoing rebuilding efforts after Hurricane Sandy ravaged much of the area last autumn, congregated Monday for a meeting in which they said they've gone so far as to hire a lawyer, R.S. Gasiorowski, to keep the pint-sized Snooki & J-Woww star out of the area.
Article continues below advertisement
Gasiorowski, according to the Star-Ledger, said that Michael Loundy, the owner of Seaside Realty (and homeowner listed as renting the home) "did not play by the rules" in the transaction, which has drawn the ire of locals such as Sue Kosakowski.
"This is a quiet, friendly island that's being put on the map for the wrong reasons -- it's a disgrace," Kosakowski said Monday of the ongoing brouhaha.
Snooki did not take the news of Monday's meeting well, tweeting early Tuesday: "Insult my son & fiancé, and I will go mama bear on your a**. #family #myeverything … If my 'actions' like playing with my son is bringing the wrong 'crowd,' obviously we are on too different pages here. I stick up for my fam."
Her castmate/bestie J-WOWW added, "Laughing so hard over these reports @snooki ... Who would've thought 2 girls can pi** so many people off #embracethehaters."
Snooki previously vented via social media at those who've been vocal in their efforts to keep her away.
"Unable how adults are trying to ban my son, fiancé and I from enjoying our summer at the shore," the reality superstar wrote Sunday on Instagram. "Grow up, get over yourself and move on.
"This is not how we should be treating one another. Absolutely sick and very sad. I pray for you. There's much bigger things to worry about in life than trying to ban my family from your neighborhood."