Snooki Reveals How She Fights Off Bullying, Death Threats From People Who Say She's 'An Abomination To Society'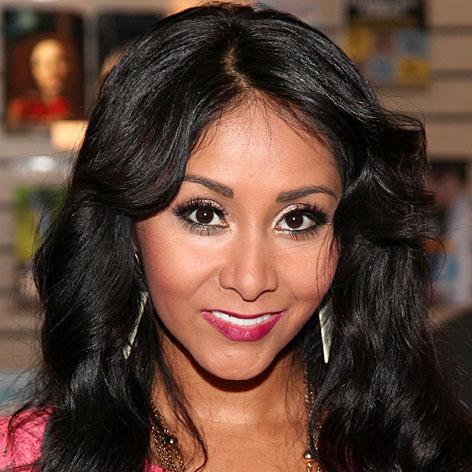 The Jersey Shore star Snooki has opened up about how she and her family receive death threats and are bullied by fans who think she is an "abomination to society."
In a candid blog post on Monday in an attempt to empower the victims of harassment, the 25-year-old mother-of-one, real name Nicole Polizzi, wrote: "It's not a secret that I may not be the most liked person on the planet, especially because people love to judge me off of Jersey Shore. I totally get it, everyone has their own opinion and I realize not EVERYONE is going to like me.
Article continues below advertisement
"I get a lot of hate, people saying I'm an abomination to society, I should be killed and terrible things about my family. Now it's totally okay not to like me, but talking about my family is just terrible."
She added, "So how do I do with these jerks? Well first, I remind myself that I'm not as bad as these people think I am, I'm a great mother, a loving fiancé, and a great friend. I also know that they don't even know me, so I give them the benefit of the doubt, because I know if they ever met me and hung out with me for 5 minutes, they would totally change their minds about me. People can be really cruel, thats just how our society is."
"Everyone judges one another and EVERYONE has an opinion. It¹s up to you to say, B**** please, you have no idea what you¹re talking about because I¹m fabulous. I was bullied in high school and I¹m beyond bullied as an adult on television, but I refuse to let anyone bring me down because all they talk is nonsense."
In the past, the MTV reality star detailed how she was bullied for "being a pretty cheerleader" at Marlboro High School in Marlboro, NY.
Article continues below advertisement
"Me and my girlfriends, we were pretty girls - we were cheerleaders," Snooki said in a January interview.
"The older girls didn't like us and I feel like they thought we were competition so they would make up nasty rumors about us and even me and you know, they would make me feel like a very low person."
In her blog, Snooki implored victims to think they're "10x better" than the "jerk off" bullies and consider their behavior "immature and disgusting."
"Also know that if they are taking the time to let you know their opinion about you, they truly care about you," she said.
"They care enough to try and bring you down and you couldn't care less to even let them affect you. You are already winning and people just plain suck. I'm sad to say that there will always be issues with people being rude and ignorant and judgmental, but its up to us to say screw it, I'm fabulous. Don't ever think you're anything less than fabulous!"