Schoep, Sick Dog Cradled By His Owner In Iconic Photo, Dies At 20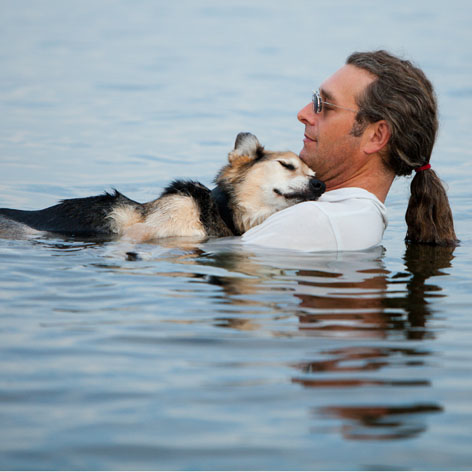 The photo of a sick dog being cradled by his owner went viral, seen by millions who likely used up millions of tissues in the process.
Now, sadly, we've learned that Schoep, the much loved pound pup John Unger adopted when it was just eight months old, has died at age 20.
Photographer Hannah Stonehouse Hudson snapped the image that made Schoep and Unger famous last summer.
Unger regularly took his aging canine pal into Lake Superior, where he'd lovingly cradle the dog in his arms. Unger believed that it was therapeutic and helped relieve the dog's pain from arthritis.
Article continues below advertisement
"I wanted to give Unger} something to remember Schoep by after he has gone," Stonehouse Hudson told RadarOnline.com. "This is beyond anything that I imagined. I knew he had been taking him out to the lake and I was just going out as a friend as a favor."
The photo resulted in an outpouring of support and donations so that Unger could get more medical help for Schoep.
A month and $40,000 later, Unger told RadarOnline.com exclusively, "Schoep is doing great! Since receiving treatment he is more active, alert, flexible, happy. He walks better, sleeps through the night now and wags his tail with more vigor. On our last walk he was even trotting!"
With thousands of dollars more in donations than was needed for Schoep, Unger also set up a foundation to help other dog owners with vet bills.
But no medical attention could halt the inevitable with a dog as old as Schoep.
On Thursday, Unger posted a simple picture of Schoep's paw print in the sand.
"I Breathe But I Can't Catch My Breath...Schoep passed away yesterday," he wrote.
Stonehouse Hudson told us she believes the secret to her picture's universal appeal is its simplicity and the love that pours from it. "People can take whatever they needed from that photo and then and apply it their own lives. It goes with any feeling of love, it's not just about dogs, it's about a spouse someone has lost or a friend or a bad time they went through."