How Rude! Rob Pattinson Gets Cozy With One-Time 'Other Woman' Caitlin Cronenberg -- After Hookup With Ex-Girlfriend Kristen Stewart's BFF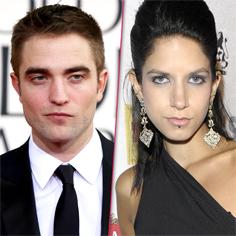 After splitting with Kristen Stewart earlier this year, the first woman he was spotted solo with was Kristen's former BFF, Riley Keough. Riley's reps denied the two were anything more than friends, but now, Rob's been spotted with someone who could make Kristen even more upset: a woman he allegedly cheated on Kristen with during their relationship, Caitlin Cronenberg.
Rob has been spending time with Caitlin while filming Map to the Stars in Toronto this summer. Her father, David Cronenberg, is the director.
Article continues below advertisement
The pair was spotted at a local bar on Monday night, RadarOnline.com has learned, along with Rob's co-star Mia Wasikowska and her boyfriend, Jesse Eisenberg.
More than just on-set friends, Rob and Caitlin have a long history together: They first grew close back in the summer of 2011, while Rob was filming Cosmopolis with her father.
Though solidly "with" Kristen at the time, Rob was spotted flirting with Caitlin on set, acting touchy-feely with her at the Cosmopolis wrap party -- and doing much more with her behind closed doors, according to reports.
Kristen reportedly did not visit him for more than two months while he filmed and grew close to Caitlin.
Rob and Kristen weathered that storm and stayed together. Kristen would later be caught getting some on-the-side loving of her own with Snow White and the Huntsman director Rupert Sanders.
Currently, Kristen is filming Camp X-Ray in Los Angeles. Rob was spotted landing at LAX on Tuesday. He moved out of the California home they had shared in May.