Exclusive
Flirt Alert! Rihanna Parties Until Dawn With Nicole Sherzinger's Ex, Race Car Driver Lewis Hamilton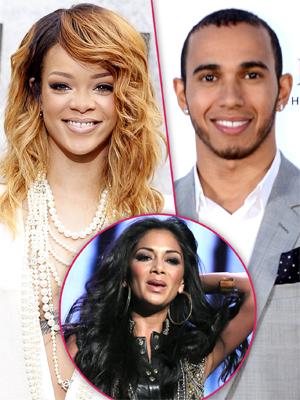 The crowd at Monaco nightclub Jimmy'z Monte Carlo was hardly shocked when party animal Rihanna showed up at 3 am on Thursday, hours after completing her delayed concert Wednesday night. But eyebrows were raised when they saw who she was partying with: Newly single race car driver Lewis Hamilton, Pussycat Doll Nicole Scherzinger's ex.
"Rihanna came to the club at around 3 or 3:30 and went right to Lewis' table," the club's DJ, Or'elle, tells RadarOnline.com exclusively. "Rihanna requested that I play only hip hop, and she and Lewis were drinking, dancing and having fun."
Article continues below advertisement
And though there was no overt PDA between the pair, Or'elle says, "He came with his friends but when she arrived they were together."
Hamilton broke up with Scherzinger, his girlfriend of more than five years and one-time fiancee earlier this month. He and Rihanna first met just before he proposed to Scherzinger in 2011.
At Jimmy'z, "Rihanna stayed about an hour and a half with Lewis," Or'elle says. "By 5 am she was gone from the club."
Just a few hours later, she was spotted continuing the party, downing cocktails at a beach bar, as RadarOnline.com reported. And later that night, she was late yet again to her second Monte Carlo concert.
Organizers told guests she would arrive at 10:30 pm for the show, which had been scheduled to begin at 8:30 pm according to tickets. "Everyone was eating dinner before," Or'elle, who attended the concert, explains. "Rihanna didn't come on until 11:10 pm."