Redmond O'Neal Unrecognizable On Beach Walk With Dad Ryan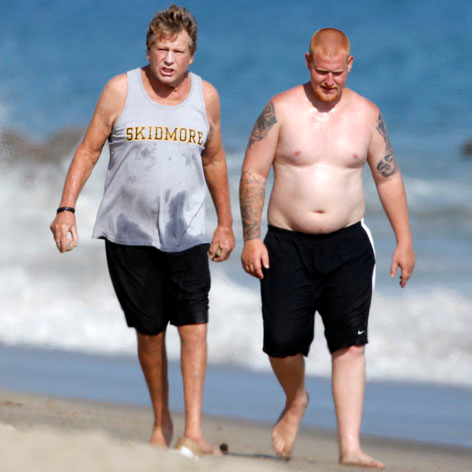 Ryan O'Neal and Farrah Fawcett's troubled son, Redmond, was totally unrecognizable as he strolled on the beach with his dad Friday.
Redmond, 28, has gained a considerable amount of weight since last seen in public. His head is now shaved and his arms covered with tattoos. Father and son seemed deep in conversation during their walk on a beach in Malibu. They also picked up liter along the way.
Following years of almost countless arrests for everything from drug possession to a firearms charge, and numerous rehab stints, Redmond -- who was previously always been tall and lean with a full head of red hair -- was placed in a court-ordered treatment center late in 2011.
Article continues below advertisement
As RadarOnline.com exclusively reported, he was released last October, with his attorney telling us "Redmond is extremely excited for the next phase of his life and his recovery." He remains on probation until 2016.
Redmond is the only child Ryan and the late Farrah Fawcett had together. He has three other children from his earlier marriage -- Patrick, Tatum and Griffin.
Both Tatum and Griffin have had their own very public battles with drug addiction. And at one point, Griffin and Redmond were both in jail at the same time!
Ryan is dealing with his own legal battle right now.
He is being sued by the University of Texas who is demanding he turn over an Andy Warhol painting of Fawcett, claiming she willed it to her alma mater. O'Neal is insisting the painting is his, and the case is set for trial November 13.