Exclusive
Michael Jackson Sex Accuser Claims Dad Killed Himself After Being Destroyed By Alleged Abuse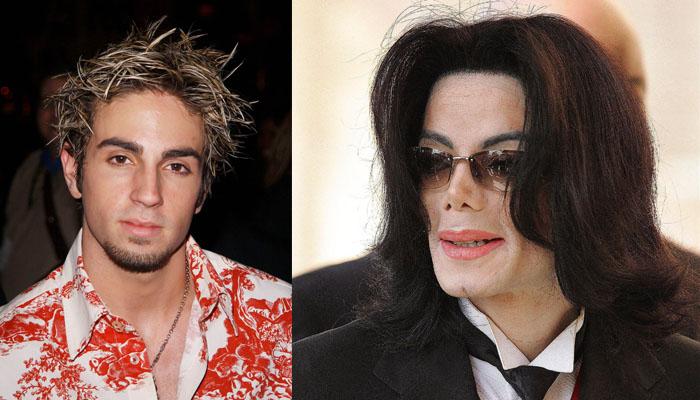 Wade Robson's dad killed himself in torment over the alleged sexual abuse his son suffered at the hands of Michael Jackson, it's claimed.
The Australian-born dancer-choreographer revealed his secret family anguish in an amended complaint against the late King of Pop's estate, obtained by RadarOnline.com, in which he claimed Jackson sexually abused him from age seven for a period of seven years.
Wade, now 30, had become estranged from his dad, who he said was found hanged in 2002.
Article continues below advertisement
The former So You Think You Can Dance judge alleged he recently learned from his father's sister that "the thought that Plaintiff Robson might have been sexually abused by Decedent Jackson was a huge source of anxiety and depression for his father."
Before the suicide, Wade's dad had been diagnosed with bi-polar disorder and his relationship with his wife Joy had "deteriorated," the filing said.
Wade told the court his father had been with him when he first traveled to Jackson's Neverland Ranch for a weekend retreat in 1990.
"The first night of the weekend, on or about February 3, 1990, Plaintiff Robson and his sister slept in Decedent's bedroom (a two floor bedroom suite with beds both in the downstairs and upstairs areas), in the same bed with decedent downstairs," it's revealed.
"The rest of the family slept in the separate guest quarters."
Article continues below advertisement
The next night the systematic sexual abuse began, it's alleged.
Days later, the Robsons left the ranch to continue a road trip, but Wade's father and mother allowed their son to stay behind with Jackson.
"Plaintiff slept in Decedent's bed every night and the sexual abuse took place every night," it's said.
Robson's family returned to stay Plaintiff at the ranch the following weekend, but again, Wade slept in the bed with Jackson while the family slept elsewhere in the house.
MORE ON:
Celebrity Justice
"The sexual abuse continued on each of those nights," it's alleged.
The next week, Wade, his mother and sister went to stay with Jackson at his Wilshire Boulevard apartment in Westwood, Los Angeles, while his father and grandparents continued on their road trip around America.
"Plaintiff slept with decedent in his bed at the Westwood apartment; Plaintiff's mother and sister stayed across the street at the Holiday Inn Hotel," it's said.
Article continues below advertisement
"The sexual abuse occurred on each of those nights as well."
Wade is now asking a Los Angeles court to award him unspecified damages.
"Plaintiff's heart, body and mind were so severely manipulated as a child by Decedent that the psychological injury and damage it has caused Plaintiff to suffer will continue for a lifetime," his re-filed case claimed.
"Often victims of such childhood abuse take their secret to the grave. Plaintiff has lived most of his life in unspeakable shame, guilt and denial as a result of Decedent's wrongdoing."
Interesting side note: Wade's father is the SECOND dad of a Jackson sex accuser to have committed suicide.
Jordy Chandler's dad was found in bed in 2009 with a single gunshot wound to his head.
The ex-dentist had reportedly changed his appearance to avoid recriminations over accusing Jackson of molesting his son in the early 1990s.