Exclusive
Choreographer Wade Robson Accuses Michael Jackson Of 'Childhood Sexual Abuse,' MJ's Former Attorney Calls Claim 'Absurd'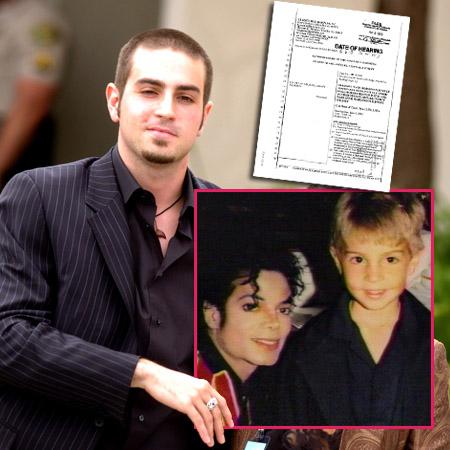 The estate of Michael Jackson has been slapped with a creditors claim by famed choreographer Wade Robson, who now alleges that he was sexually abused as a child by the late Thriller singer, despite the fact Robson was a star witness for Jackson at his infamous molestation trial in 2005, during which the Australian said he had NEVER been abused, RadarOnline.com is reporting.
In the court docs, obtained by RadarOnline.com, Robson's attorney stated in a sworn declaration that the claim should be sealed because of "childhood sexual abuse in the universal complaint for childhood sexual abuse as described in the unified complaint for childhood sexual abuse attached to the Creditor's claim."
Article continues below advertisement
EXCLUSIVE DOCUMENTS: Wade Robson's Creditor's Claim Against The Estate Of Michael Jackson
Robson, and mental healthcare professional Dr. David Arredondo, also filed declarations under seal.
Jackson's former childhood pal is asking the court to allow his claim to proceed, even though the deadline to file creditors claims against the Estate has long since passed.
During Jackson's 2005 molestation trial in Santa Maria, California, Robson voluntarily testified for the defense, and denied that the Billy Jean singer ever sexually abused him.
Robson, now 30, first met Jackson when he was 5 and had several sleepovers at the Bad singer's Neverland Ranch -- allegedly until he was 14.
Famed attorney Tom Mesereau, who successfully represented Jackson, told CNN he was extremely perplexed by the claim.
"It's absurd. He was one of the strongest witnesses for the defense at Michael Jackson's criminal trial in 2005. He was adamant under oath that he had never been molested at any time," Mesereau told the cable news outlet.
Article continues below advertisement
A Neverland housekeeper testified at the trial that she saw Wade showering with Michael Jackson, but he vehemently denied it on the witness stand.
Jackson's former attorney also revealed that he was suspicious of the timing of the creditor's claim since Katherine Jackson's wrongful death lawsuit trial is now in its second week.
"The timing is suspicious," Mesereau stated.
AEG lawyers plan on bringing up molestation claims against Jackson at the trial.
It's unclear how much money Robson is seeking from Jackson's estate.
As a choreographer, Robson has worked with some of music's biggest names, including Britney Spears, Usher, Pink and 'N Sync. He's also appeared on FOX's So You Think You Can Dance as both a judge and choreographer.