Melissa Gorga Compares Teresa Giudice To A Pimple On RHONJ, Says She 'Needs To Be Popped'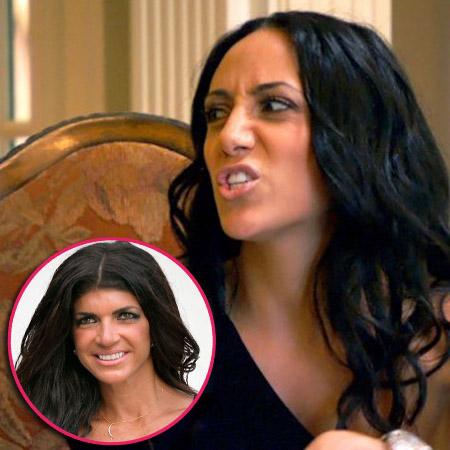 Melissa Gorga, angered that Teresa Giudice listened to a friend discussing cheating allegations against her, compared her sister-in-law to a pimple on Sunday night's The Real Housewives of New Jersey.
"The motherf---ing head needs to be f---ing popped," Melissa declared.
The latest trash talk on the Bravo reality show erupted after Melissa's best friend and bridesmaid, Jan, went on a girls' night with Teresa and her other pals Kim Depaola and Jennifer. Jan told everyone that Melissa, who is married to Joe Gorga, had an affair with her former boyfriend. Joe's sister Teresa told the other ladies she'd heard that rumor before--but when she'd asked Melissa about it, her brother's wife had denied the charge.
Article continues below advertisement
Later, viewers saw Jennifer, a realtor who hoped to get the listing for the Gorgas' home, reveal the girls' night gossip to Melissa.
Jennifer told Melissa, "Your friend Jan is not a friend," because she told Teresa and the others that "you've been cheating on your husband and you guys have been messing around for a long time."
Jennifer added to Melissa, "You don't need people like that in your life."
A shocked Melissa said Jan had been in her wedding ten years ago. But even more troubling to Melissa, Teresa was listening to the gossip about her, according to Jennifer. Also, Jennifer warned Melissa that Kim appeared to be trying to break up her marriage with the loose talk.
Later, when Melissa and hubby Joe met some of the other housewives and their men at an Italian restaurant, she told them what Jan had said about her cheating. Joe was disgusted that his sister Teresa was involved in the slander. Jacqueline Laurita, who has also been feuding mightily with Teresa, said at the bar, "She's really going crazy now. She's up to her old tricks."
Article continues below advertisement
Things got more tense when Kim showed up at the restaurant. "I wasn't in the mood to smell s--- tonight," Melissa said. She confronted Kim, saying she'd heard about the girls' night and them "talking s--- about me. You're always in the middle of this bulls---. It's not your motherf---ing business!"
But Kim insisted, "I'm not the one saying it."
"This year I'm a cheater, last year I was a stripper!" Melissa fumed.
She then turned to her husband Joe and gave him a sexy kiss to display their love to Kim, then declared their marriage was "Unf---ing breakable!"
Joe loved the kiss and waggled his tongue lewdly at Kim. He confirmed that they were going to confront Teresa at a planned retreat that his sister had proposed to solve the family feud.
And Joe told viewers in a confessional segment, "Do I think Melissa cheated on me? Hell, no!"
Article continues below advertisement
Later on the Bravo show, Jennifer admitted to Teresa over lunch that she'd told Melissa about how the alleged cheating had been a topic of conversation.
"I felt she had a right to know," Jennifer said.
Teresa sighed, "Now Melissa's going to think I had something to do with it."
But that's not the only feud that got major air time on Sunday's episode! Earlier in the show, fans saw Kathy Wakile cooking cannoli in her new test kitchen and Jacqueline and Caroline Manzo listening to Kathy's sister Rosie Pierri talking about her meeting last week with Teresa and how she even hurt her hand -- by pounding it on the table! Rosie mentioned the retreat Teresa wanted to go on with everybody.
"She needs me there to put all the blame on me!" Jacqueline said.
Meanwhile, Teresa, husband Joe Giudice, their daughters, and Teresa's mom and dad made sausages together. Teresa explained to her father that she'd found a castle in upstate New York where family members could speak face-to-face. Teresa wanted to do the retreat for her dad.
Later, Teresa called brother Joe while he was golfing with Rich Wakile and proposed the idea.
Article continues below advertisement
"We've got to build our trust again," she said.
On a happier note, Melissa revealed her book deal to her friends Jan and Maria and disclosed that it would be called Love, Italian Style: The Secrets of my Hot and Happy Marriage.
Melissa said it was easy for a woman to get wrapped up in the kids but after talking to her husband, "I know how men think. You need to keep your husband interested."
Melissa mentioned Teresa, who wrote her own cookbook, had texted congratulations, which Melissa found phony. "I hope she reads it. She needs it," Melissa laughed to her friends.
As RadarOnline.com has previously previewed, while Kathy and Jacqueline went shopping for clothes at a boutique, Kathy put Teresa on speakerphone -- and Jacqueline got an earful! During the phone call, Teresa said she wanted everyone to get together at the family retreat but also said she didn't speak to Jacqueline because she's the one who got her in the feud with her brother!
Jacqueline grabbed the phone and told Teresa, "You need to stop blaming me for your family issues."
Article continues below advertisement
After she sarcastically called Teresa honey, Teresa said, "Do not call me honey, b---h."
Teresa dared Jacqueline to come on the family retreat, and called her a stalker and troublemaker while Jacqueline countered that Teresa was a moron and "liar, liar, liar!'
Also on the action-packed Sunday night episode, Kathy and Rich and Melissa and Joe went to an exotic dance class together. Melissa liked all the rhythm and movement while Kathy sighed, "I can't do any of this stuff."
Rich said he'd fantasized about Melissa -- and asserted that men cheat because their wives ask them to take trash out instead of doing fun things!
Watch the video on RadarOnline.com
Meanwhile, on the Manzo front, Caroline and Albert went out on a dinner date together and he said their Hoboken apartment was ridiculous because it was only ten blacks away from their kids. But Caroline explained that she had the apartment so they could be alone together. She told her husband she didn't want him to work himself into an early grave: "I'm too young and pretty to be a widow. You're my only love. Nobody would ever love you the way I do."
But the loving moments are few and far between on Real Housewives and the Jersey crew is on the road to what's sure to be an explosive family retreat on next week's episode. In a promo for next week, aired on Bravo, Joe Giudice flips out after Joe Gorga calls Teresa "scum"--and the two men wind up in an all-out brawl!