Exclusive
More Cheating Drama! Teresa Giudice Sinks her Claws Into Caroline Manzo, Insinuates Hubby Is A Philanderer!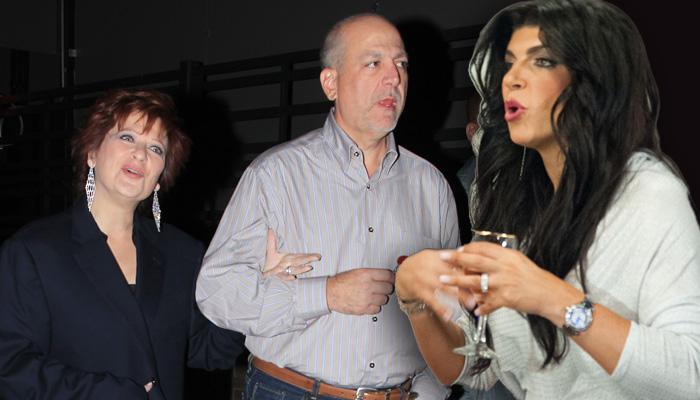 The bad blood between Teresa Giudice and Caroline Manzo hits a new low in the upcoming season of The Real Housewives of New Jersey when Teresa tries to stir drama by insinuating that Caroline's husband has been cheating on her and then attempts to expose the secret to the public, RadarOnline.com is exclusively reporting.
While at the Posche Fashion Show last year, Teresa and her partner in crime, Kim D, ran into Le Chateau Allure salon owner Penny Drossos and probed her for information on which husbands from the hit Bravo show were not being faithful to their wives.
Article continues below advertisement
"Penny was a little bit hesitant to speak with them, but Teresa and Kim were relentless in their pursuit of digging up dirt on their fellow housewives," a source close to the situation exclusively tells RadarOnline.com.
"Teresa and Kim rattled off the names of all the men and when they got to Albert Manzo it was clear that was who Penny was suggesting is having an affair."
According to the source, Teresa and Kim tried to get more info out of Penny about Albert and his alleged mistress, but when she refused Teresa got really frustrated.
"When Penny wouldn't elaborate Teresa shrugged it off and made a cruel remark about how everybody knows about his affair and inferred that it has been going on for what seems like forever," the source reveals.
As RadarOnline.com exclusively reported earlier this month, Melissa Gorga's ex-boyfriend, Bryan "Bulldog" also stirs up trouble at the fashion show when he reveals via speakerphone that he continued a relationship with her well into her marriage with Joe Gorga http://www.radaronline.com/category/tags/joe-gorga/.
Article continues below advertisement
"While the cameras are rolling, Penny gets out her cell phone and calls Bryan directly, although he goes by 'Mike' on the show, and while on speakerphone he validates everything — and then some!" a source said.
"While on speakerphone 'Mike' says that Melissa lied to Joe about why she needed to move in with him after they met. She told him that her female roommate kicked her out and that she had nowhere to go."
The source concluded, "When in reality, Melissa was living with Bryan and wasn't even interested in Joe until she saw his house. Once she had him wrapped around her little finger she continued to have a discreet affair with Bryan and he had no problem blowing the lid on it this season."
Teresa Giudice And Joe Gorga On The Real Housewives Of New Jersey
To find out if Albert really cheated and if his alleged mistress is ever revealed, tune in to Season 5 of the Real Housewives of New Jersey premiering on Bravo this spring.