'So Sorry My A** Isn't To Your Liking': Defiant 'RHONJ' Star Jacqueline Laurita Lashes Back At Weight Critics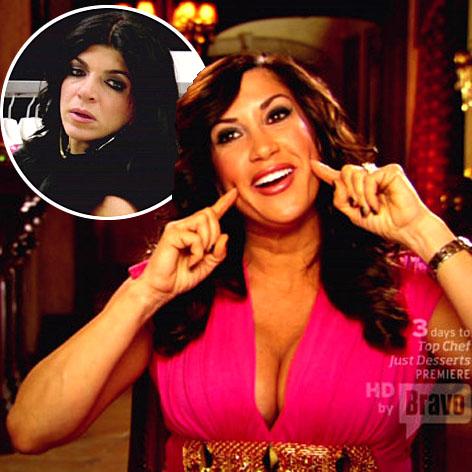 Teresa Giudice's friends Linda Burger and Kim DePaola may like to make fun of The Real Housewives of New Jersey stars Jacqueline Laurita and Kathy Wakile's weight, but Jacqueline thinks that the smack-talking women should take their words and eat them.
So, the Real Housewives of New Jersey star penned a poison note for Linda in her June 16 blog for Bravo.
"Linda, so sorry my 'ass' isn't to your liking, (Chris loves it), but I've been kinda busy the last few months doing research and trying to recover my child, raising Autism awareness, starting a new business, keeping up with my house, while still focusing on my family and friends," Jacqueline writes. "I wasn't putting the gym at the top of my priority list. (I put it above bleaching my asshole, but below everything else I had going on.) I have a busy life."
Article continues below advertisement
Jacqueline takes her own swing at Linda.
"But hey, having a fit body CLEARLY isn't a gauge of how good of a person you are," she says. "Seeing as though some of your best friends are actually bigger in size than I am, I hope you didn't offend them by making them wonder if you judge them and what you say behind their backs, as they saw you do to me."
Jacqueline suggests that Linda's behavior is duplicitous and that she is only trying to win Teresa's approval.
"You told me you liked me and that you had nothing bad to say about me when talking to me, but your attitude about me seemed to change when speaking to Teresa," Jacqueline notes. "You may be strong, but you're obviously not strong enough to be your own person."
Jacqueline advises: "Fall back, soldier! Try working on your heart muscle. It will make you much more appealing."
Like Jacqueline, Kathy defends herself against Linda and Kim's cruel comments.
MORE ON:
Jacqueline Laurita
Article continues below advertisement
"There comes a point in your life where coming to terms with accepting certain things about your physical appearance is empowering, like, 'I'm never going to be 5'7" and a size 2, with long legs and a booty like Beyonce,'" Kathy says in her blog. "It's just never going to happen. So what?"
Kathy is happy with the way that she is: "I am comfortable with the skin I'm in, and more importantly, I am a healthy and strong woman that has taken care of the people I love and have been strong for them whenever they needed me."
"That's something I will never ever regret and always be proud of," Kathy continues. "Even though I may wonder why those 'skinny bitches' don't want a cupcake, the fact of the matter is the journey to health and wellness is everything in moderation, so I say indulge a little, it's not gonna kill you."
Melissa Gorga is even bothered by Teresa's friends and compares them to Cady Heron (Lindsay Lohan) and Regina George (Rachel McAdams) in Mean Girls.
"It really bugged me listening to Teresa, Kim D., and Linda (or, as Joe called them, Moe, Larry, and Curly) laughing on the phone about people's weight," Melissa says. "Were they auditioning for Mean Girls?"
"I hate listening to that," Melissa concludes. "Kathy and Jacqueline look sensational. We should all be so 'fat.'"