Exclusive
Low Blow! Jason Hoppy Tells Bethenny Frankel: Our Daughter 'Isn't Going To Want Anything To Do With You When She Gets Older'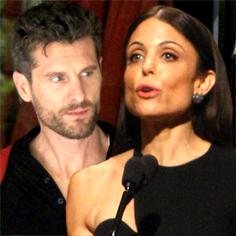 An ugly divorce just got uglier.
During a recent argument, Jason Hoppy, told his estranged wife Bethenny Frankel that when their daughter, Bryn, gets older she will want nothing to do with her mother because of the bitter turn the divorce and custody dispute has taken, RadarOnline.com is exclusively reporting.
The nasty argument took place several days after Frankel called Hoppy, "trash," in front of Bryn.
Article continues below advertisement
"Bethenny just can't believe Jason isn't granting her sole custody of Bryn," a source told RadarOnline.com.
And her desire for sole custody has made the divorce even worse.
"It absolutely enrages Jason that Bethenny is trying to cut him out of their little girl's life," the source said. "Jason told Bethenny she was going to have a very hard time explaining her actions to Bryn when she is old enough to grasp what happened when her parents divorced.
"Jason also said that Bryn wasn't going to want anything to do with her mother when she gets older. Bethenny just flew off the handle when Jason said that because Bryn is her entire world. What is truly sad is that both parents love Bryn so much, and she will be the one ultimately harmed by her parents actions."
Hoppy recently told Frankel, via their lawyers, that he didn't want Bryn to appear on her upcoming talk show.
Article continues below advertisement
"He doesn't want Bethenny to have Bryn in the audience, or do pre-taped segments for the show. He just doesn't feel that their daughter should be on display on Bethenny's talk show," a source told RadarOnline.com.
And one insider says Hoppy is careful about what he says about Bethenny around their daughter. "Jason has always been very, very careful to never say anything negative about Bethenny in front of Bryn," the source said, adding that Jason believes Bethenny does not play by the same rules.
As RadarOnline.com was first to report, Hoppy alleged that Bethenny wasn't allowing him to see Bryn as much as he wanted because the talk show host was spending time at a friend's apartment with the little girl.
Even though the couple is divorcing, they are living together in their New York City apartment.
The former Real Housewives of New York City star admitted in an interview that she was sorry she ever married Jason but was grateful for Bryn.
"In my marriage, I made a mistake. It is what it is," she said. "I made the wrong choice. But I do have my daughter, who is so beautiful and amazing in every way."
One day in the future, "Bethenny is going to have to explain those very harsh comments to Bryn," the source said. "Bryn is going to be able to read stories about the divorce on the Internet. Jason has never, nor will he ever, have anything negative to say about Bethenny. He is taking the high road, it's how he was raised."