Exclusive
Lamar Odom's Mistress: He Told Me He Loved Me And We Talked About Having A Baby Together!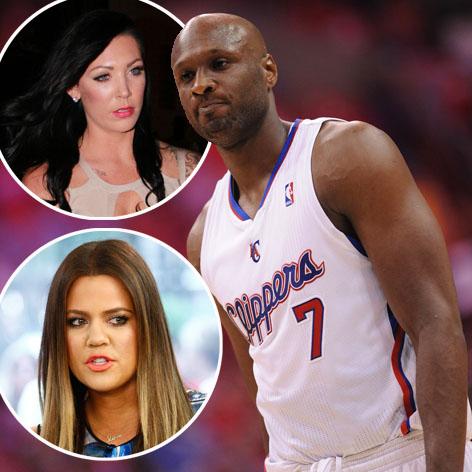 The woman who claims to have had a full-blown relationship with Khloe Kardashian's husband Lamar Odom has opened up with a new bombshell interview claiming the NBA pro told her numerous times he loved her — and the two even talked about having a baby together
Jennifer Richardson, who began the torrid love affair with Lamar in January 2012, told Star magazine that she traveled with him to a lot of his road games and they would often sleep together right before he would fly home to his wife, Khloe.
Article continues below advertisement
"He had sex with me on Christmas Eve, before he flew back to L.A. to spend Christmas with Khloe. It was tough when he had to leave. He was really sad," Jennifer said.
"Lamar gave me a kiss and told me he loved me before we parted ways. He told me on many occasions that he loved me. And I honestly felt the same way."
In fact, Jennifer claims Lamar was so in love with her that he discussed starting a family together.
"Lamar talked a lot about having a baby with me," she told Star.
"It was something that he badly wanted, and I wanted it too, because I loved him so much. I don't know what would have happened had I gotten pregnant."
In February the nature of their relationship began to eat at Jennifer, who says Lamar laughed it off, again bringing up the idea of getting her pregnant.
"I became a little upset and told Lamar that the relationship was becoming extremely hard on me, because we were growing so close," Jennifer explained of the last time she stayed with him at the Ritz-Carlton.
Article continues below advertisement
"A couple hours later, when we were lying in bed, Lamar rolled over and said, 'If you think it's hard now, wait until you get pregnant.' I didn't think too much about his comment then, but the next morning it really affected me.
"In March I ended our relationship and told him not to contact me anymore. I couldn't continue to be a secret any longer."
Jennifer was prompted to tell her side of the affair after photos of Lamar emerged last week going crazy on photographers who asked him about the cheating — because the location of Lamar's bizarre meltdown was only one block from her former home!
"Seeing that really freaked me out; I became concerned as to why he was there," Jennifer said.
"And then, when he told the photographers he'd never met me and denied our affair, I immediately lost it."
For the full interview with Lamar's mistress, pick up the latest issue of Star magazine on newsstands Thursday.