Exclusive
I Don't! Kanye West Nixes Wedding To Kim Kardashian This Year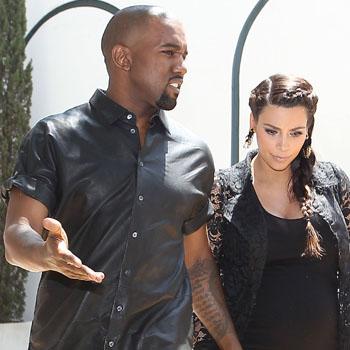 Article continues below advertisement
"This will be Kim's third marriage, and Kris doesn't think the Kardashian brand can handle another divorce," a family insider said. "Kris would be happy if Kim and Kanye never married because he doesn't let her call the shots."
Kanye has his own reasons for not wanting to rush a wedding, one of which is he's going to be on an international world tour. "Kanye has the perfect out, he can't marry Kim yet because he is going on world tour later this year," the insider said. "He loves Kim, but just isn't sure about marrying into the family.
"Kim is so close to her mom, and it's no secret that Kris clashes with Kanye, a lot."
Another source confirmed Kanye has put off wedding talk and made it clear it simply will not happen this year.
"Kanye think Kris will want a big televised wedding," the source said. "And he's really not up for that. He loves Kim but he hates all the scrutiny that comes from being with her. When the photographers follow him, he flips out.
Article continues below advertisement
"Can you imagine him as part of a big televised wedding? It may happen one day but it's definitely not going to be this year and it's going to take a lot of persuading to get him to do it."
The source added that Kris Jenner believes not enough time has passed since the Kris Humphries' disaster. "Kris might say she doesn't want them to get married but everyone knows she's had thoughts about a big wedding on TV and making a fortune from it.
"But Kim's marriage to Humphries was such a disaster that Kris knows it is way too soon to even think about pulling off another one."
After an extended period of staying indoors at her mom's Hidden Hills, Calif. home, Kim was out and about in Southern California some time in the last few days, keeping a low profile traveling in her nanny/helper's car.
"Kim looks amazing, she really does. She's dropped a lot of the baby weight already … not to say she still doesn't have a ways to go, but she looked slim and was glowing," an onlooker revealed. "As for the baby, Kim and her helper kept a blanket over North's car seat so nobody could catch a glimpse."
If a wedding does happen, "it will definitely be a very small, family affair. It won't be the over the top nuptials that Kim had when she married Kris Humphries. It absolutely won't be filmed," the source added.