Diet Fail! Kevin James Packs On The Weight Again & Heads Over 300 Pounds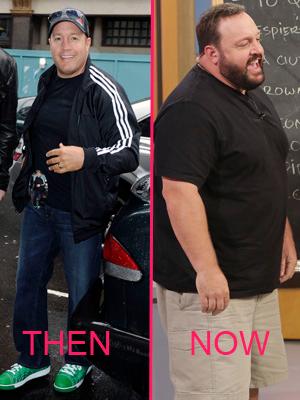 Kevin James is Hollywood's leading funny guy and it looks like his waist line is expanding as quickly as his skyrocketing career.
The Grown Ups 2 star was spotted on the Univision show Despierta America where he looks like he has really packed back on the pounds and might be tipping the scale over 300 compared to the slimmed down photos RadarOnline.com has of him from just a few years ago.
Alongside his co-star Salma Hayek in a black t-shirt and khaki shorts, The King of Queens star looked heftier than he has in the past, where he said he was hugely overweight.
Article continues below advertisement
During an appearance on David Letterman in 2011 Kevin said that he ballooned up to 290 pounds.
"I realized I'm only 10 pounds away from 300. Then I got to 302," he said and revealed he then dropped a whopping 40 pounds.
Now on a promotional tour for his new film, Kevin seems to be showing off his fuller frame.
The one thing Kevin is dropping is his real estate - he recently listed his Los Angeles mansion for $5.495 million.