Kate Middleton Ready To Give Birth Any Minute! 7 Latest Developments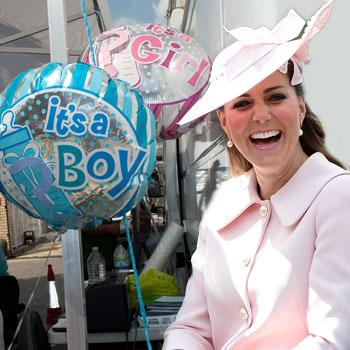 Kate Middleton's expected to give birth any minute now to her first child with husband Prince William, and we've got the seven latest developments surrounding the little royal-in-waiting.
Is Today The Day?: Some hospital personnel at St. Mary's in London "were told the due date was July 19," a royal source told the Daily Telegraph, noting, "A small number of staff at St Mary's who might be called upon when the Duchess gives birth were told they had to not consume alcohol for a month before the due date."
Article continues below advertisement
She Takes The Cake: Who Made the Cake, a Houston bakery, is making a life-sized cake replica of the Duchess of Cambridge holding a baby, with intent to send it to Kensington Palace when it's complete. The royal dessert will first be displayed at a bridal show at Houston's George R. Brown Convention Center. Designer Nadine Moon said, "This is the most anticipated birth since Princess Diana had Prince William three decades ago. They're going to be getting a ton of blankets and bibs. This is one-of-a-kind baby gift that will lord over the rest."
Change Of Plans?: With uncertainty surrounding the due date, palace officials have looked toward an alternate hospital -- Reading's Royal Berkshire Hospital, according to People — where Kate could deliver the child, as it's closer to her parents' Bucklebury home (about a 30-minute drive), where she's been resting in anticipation of the birth. As news spread of a possible change of venue, media and photographers began making plans to set up shop in the area, should she deliver there. Palace insiders told the magazine the separate hospital is strictly in case of emergency.
MORE ON:
Duchess of Cambridge
Article continues below advertisement
C-Section?: While Kate has surpassed some projections as to when she'll have the baby, English doctors would only induce labor, or via Cesarean section, if the child was a week to 10 days overdue, People reported. Medical officials often inform parents-to-be a due date represents a two-week range of when the baby will actually be born.
The U.K.'s North West?: Ancestry.co.uk conducted a comprehensive study of the names on both sides of the baby's family, and came up with Elizabeth and John as the most frequent names in the royal couple's lineage. But, if the royals want to dig a little deeper, there's other options based on past names given in their respective families. The Middletons have had girls named Pemelia, Albina and Edezer, while Will's family have named girls Eusabia, Thomasin and Hyacinthe. For the boys, the Middletons have had males named Theophilus, Lewen and Uriah, while the Windsor family tree has had males named Lancelots, Marmaduke and Slyvanus. "In today's culture for celebrity baby names," Ancestry's Miriam Silverman told the UK Mirror, "Kate and William very well might decide to opt for a more unusual name."
Move Over, London Eye: St. Mary's in London, where Kate is slated to deliver the child at, has become not only a destination for media crews and shutterbugs, but tourists as well, as many visitors have flocked to the medical facility, and had their picture taken, during this historic time.
Wanna Bet?: More than $1.5 million has been laid down by gamblers on the baby's arrival, E! reports, with money riding on everything from the unborn child's name, sex, weight and date of birth. The overwhelming favorite, per England's Ladbrokes betting house, seems to be Will and Kate welcoming a daughter, as one would have to put up $300 to win $100 if the baby is a girl; whereas for a boy, a $100 bet would win the gambler back $225. One daring dice-roller wagered $15,000 last December that Kate would be having a girl.
Stay with RadarOnline.com for the latest news on the royal baby!