Royal Fear! Kate Middleton's Baby Could Be In Danger Says Princess Diana's Bodyguard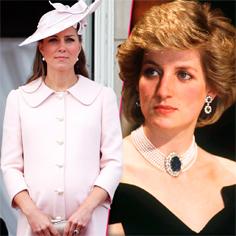 Kate Middleton is preparing to give birth to the Royal Baby any day now but Princess Diana's former bodyguard warns that the child could be in "danger" of being kidnapped.
Prince William's childhood bodyguard Ken Wharfe said that his experience working with the late Princess gives him the knowledge to predict the level of protection the Duke and Duchess of Cambridge will need to keep their new baby safe.
Article continues below advertisement
"Kate's baby could be in danger. Given the political state of the world and the vulnerability of the royals, they need a lot of protection. In this terror-ridden world of ours, there's a real risk of kidnap for this child," he told Look magazine.
He said that times have changed and Kate and William's child is at a greater risk now.
"The world is a much more dangerous place than it was 20 years ago, when we would take William and Harry out. Even then, there was a large protection team with the sole responsibility of looking after them.
"There are going to be people in every conceivable tree and bolt hole, waiting for their baby to be pushed out in a pram."
Wharfe said that the security will be expensive but necessary, and that William's mother always anticipated security troubles.
"What they will have to do is surround themselves with police, which could be a multi- million pound operation. Security-wise, it's logistically impossible. Diana would have seen the pitfalls in the plan. She'd have said: 'Hang on a minute, be careful. I'd advise you not to do it.'"
Kate is expected to give birth in mid-July. It has been rumored that she will spend the first few weeks with her parents, Michael and Carol Middleton at their new $8 million estate and then move into their new home at Kensington Palace.
The royal baby will be third in line to the throne after Queen Elizabeth is no longer the sovereign, following Prince Charles and Prince William.