Confirmed: Kate Middleton To Give Birth To Royal Baby Where Princess Diana Delivered William And Harry!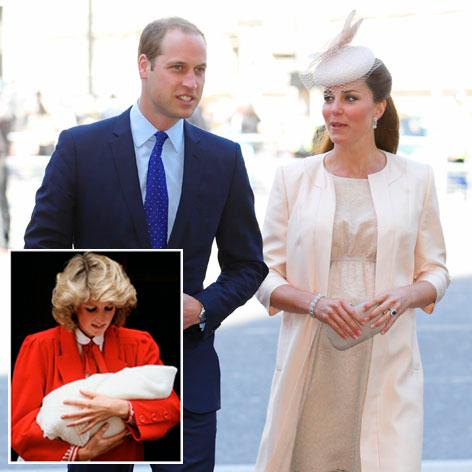 Kate and Wills still don't know the sex of their royal baby, it's been revealed.
With only weeks until the expectant Duchess of Cambridge gives birth to the couple's first child, the royal parents-to-be have confirmed, via a Clarence House spokesperson, that the baby will be born at St Mary's Hospital in Paddington, London, where Prince William and Prince Harry were born.
The new details of the much-anticipated birth were revealed at an official press briefing by William's spokesman, Ed Perkins, last Thursday but were embargoed until today.
Article continues below advertisement
The Queen's former gynecologist, Doctor Marcus Setchell, 69, will come out of retirement to supervise the birth, Perkins also revealed. Dr Setchell also helped deliver the Countess of Wessex's two babies, Lady Louise Windsor and James, Viscount Severn.
William will take two weeks paternity leave from his military chopper base in Wales to be close to Kate after the birth.
The future heir to the British throne will be born in the Lindo Wing of St Mary's Hospital, a private facility that offers deluxe suites complete with bed, lounge, satellite television, Wi-Fi, safe and a fridge.
Kate recently made what is expected to be her last public appearance, at the the Trooping the Colour parade in a pale pink Alexander McQueen coat, sparking rumours that she may be hinting at the sex of the royal baby due in July.
But according to the Clarence House briefing, the pair did not want to know the sex and purposefully did not find out during the pregnancy.