TV Sports Host Apologizes After Insulting The Looks Of Wimbledon Tennis Champ Marion Bartoli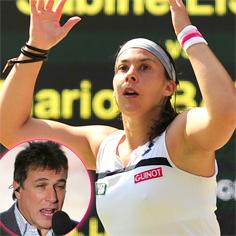 BBC tennis host John Inverdale on Sunday said he's sorry for "any offense caused" after making disparaging remarks about Wimbledon women's champion Marion Bartoli during coverage of the tennis tournament a day before.
The controversial comments came during Saturday's womens' final, when Inverdale speculated aloud about a hypothetical pep talk Bartoli's mentor father might have shared with her urging her to work harder.
Article continues below advertisement
"I wonder if her dad … did say to her when she was 12, 13, 14 maybe, listen, 'You are never going to be a looker, you'll never be a Maria Sharapova … so you have to compensate for that. You are going to have to be the most dogged, determined fighter that anyone has ever seen on the tennis court,'" he said, to an angry response from Twitter users watching the match.
Inverdale said Sunday, "I have apologized to Marion by letter if any offense was caused and I do hope we can leave the matter there," noting he was referring more to her height than anything else.
Bartoli, ever the champion, showed little emotion toward the insults, enjoying her well-earned place in the limelight.
"It doesn't matter, honestly," the France native, 28, said when apprised of the comments. "I am not blond, yes. That is a fact. Have I dreamt about having a model contract? No. I'm sorry. But have I dreamed about winning Wimbledon? Absolutely, yes.
"And to share this moment with my dad was absolutely amazing and I am so proud of it."