Oh The Horror! Jennifer Aniston Says She Was Forced To Eat A Big Mac Once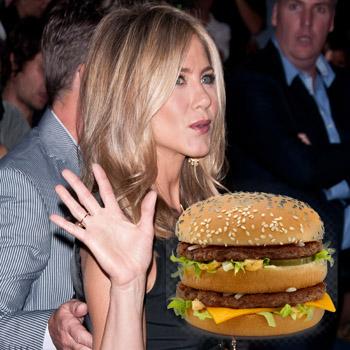 Jennifer Aniston is not loving it! She has clearly been taking notes from her buddy Gwyneth Paltrow because she recently revealed that she once ate a McDonald's Big Mac and it wreaked havoc on her "purified system."
The 44-year-old actress, who is known for her killer body and disciplined diet, recalled her fast food nightmare to New York magazine.
Describing the horrifying experience, Jennifer said that she and her fiancé Justin Theroux once found themselves in a situation where they had no other choice but to grab some fast food.
Article continues below advertisement
Jen, now a spokesperson for Aveeno, says that her usual diet is strictly healthy and that the burger was not kind to her system.
"I am always trying to eat organic and natural foods, so that just made my stomach turn and made me feel terrible. And I think what you put in your body, as well as stress, is reflected in the quality of your skin."
Her makeup artist Angela Levin said that she is able to keep Jennifer's skin looking so much younger despite the one terrible Big Mac by using products that range from $12 eyeliner to $50 foundation.