Exclusive
That Was Fast! Henry Cavill Spotted Partying With Other Women Post-Split From Kaley Cuoco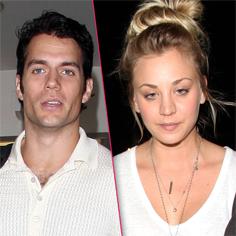 Henry Cavill and Kaley Cuoco shocked fans when they announced their split today, after less than two weeks of dating. That was fast, but Henry's rebound could be even faster: He was spotted partying it up with other women on Wednesday night in Canada, days before the split was even officially announced.
In town for his brother's wedding, the Man of Steel star took time to stop by Ranchman's Cookhouse and Dancehall in Calgary, Canada, for the "Honky Tonk Stomp," and he was hardly crying into his beer over his breakup.
Article continues below advertisement
Happily posing with several female fans, and one blonde in particular, Henry even took to the dance floor for a spot of line dancing.
"We are proud to have hosted SUPERMAN!" the bar posted on their Facebook page, along with an autograph from Henry that read, "To Ranchman, You guys are the best! Henry Cavill"
He was also spotted checking out the Calgary Stampede rodeo earlier that day.
Kaley, meanwhile, looked more reserved leaving a girls' night at Cecconi's restaurant in West Hollywood Wednesday night.