'Man Of Steel' Henry Cavill & Kaley Cuoco Take Their Super Romance Public During Shopping Trip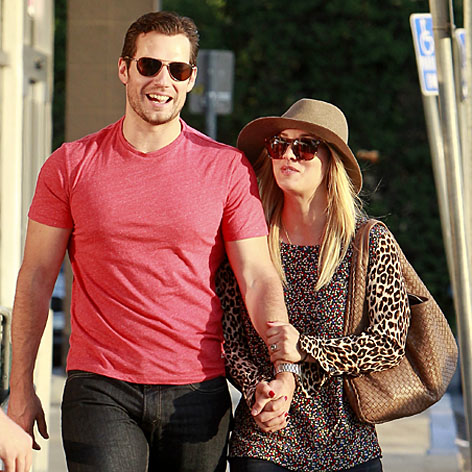 The Big Bang Theory beauty Kaley Cuoco and Man of Steel's Henry Cavill showed their romance is going faster than a speeding bullet on a pre-fourth of July trip to the grocery store.
Kaley looked like Superman Henry's real life Lois Lane as they purchased food at a Sherman Oaks, California Gelson's near the sitcom star's home on July 3.
Their romance seems to be hotter than the fourth of July, as Kaley at one point put her arm around Henry and nuzzled her face against his big, strong shoulder!
Article continues below advertisement
And the pair were holding hands as they walked into the high end supermarket, with Kaley looking Hollywood cool in a large hat, a leopard print top, sunglasses, skinny jeans, and jeweled sandals, while Henry was more casual in a pink tee shirt, jeans, sunglasses, and boots.
They both wore smiles as they left Gelson's pushing separate shopping carts loaded with bags of groceries.
Henry took off his sunglasses at one point as they left the store, made eye contact with Kaley, and gave her a sweet smile. All the while, some excited girl fans giggled behind them, obviously recognizing the famous couple.
Henry and Kaley seemed very comfortable together as they loaded groceries into their car just like any ordinary close couple. Afterwards, Henry graciously signed an autograph in the parking lot for an elderly male fan and they took off.
The attractive twosome, whose romance was only recently revealed, also visited a wine shop on Wednesday, after a day of hiking together on Tuesday.
Do they have a big fourth of July party planned? Follow RadarOnline.com to find out!