Big Bang Theory's Kaley Cuoco Disses Her CBS Network, Tweets Pro-Dish Message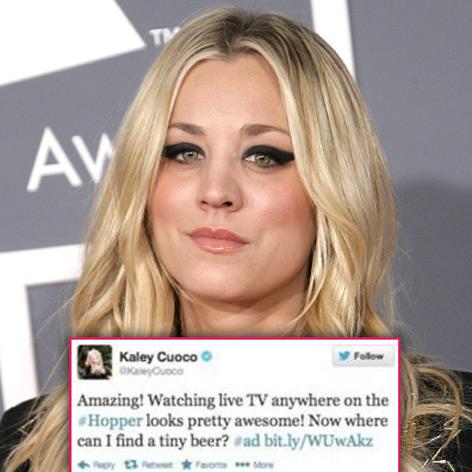 Big Bang Theory star Kaley Cuoco is in some hot water with her network after tweeting an endorsement for rival Dish Network, who is currently locked in a legal battle with her home network of CBS, RadarOnline.com is reporting.
"Amazing! Watching live TV anywhere on the #Hopper looks pretty awesome! Now where can I find a tiny beer? #ad," Kaley tweeted on Wednesday with a link to the Hopper commercial.
Article continues below advertisement
Kaley's bosses at CBS are suing Dish Network over their "Auto Hop" service which allows viewers to skip commercials that help fund their Big Bang Theory program.
"Clearly, with this kind of response, consumers have a true interest in the types of innovations the DISH Hopper offers," Dish president Joe Clayton told Yahoo!.
"It's a shame that CBS, despite its legacy, feels it needs to thwart this kind of consumer demand."
CBS has remained mum on the controversy over Kaley's social media message, but the tweet has since been deleted.
"We've reached out to several different celebrities and those with influence for sponsored tweets and so I think she's one of many folks," Dish spokesman John Hall told TheWrap.
"Our goal is to introduce our products and services to consumers. We find people that consumers are paying attention to."