Kaley Cuoco & Henry Cavill Dating: They're Completely In Lust With Each Other!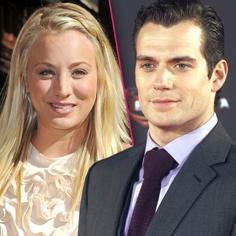 Big Bang Theory beauty Kaley Cuoco has landed herself a real-life Superman!
The 27-year-old blonde actress has been dating Man of Steel hunk Henry Cavill for about a month and an insider exclusively tells RadarOnline.com that the two are "completely in lust with each other" already.
News of the new couple broke Monday morning on Us Weekly, revealing that Henry, 30, and his girlfriend of 10-months, Gina Carano, broke up in May and he's been enamored with Kaley ever since.
Article continues below advertisement
"Henry and Kaley already seem like the perfect couple," a source close to the actress told RadarOnline.com.
"Henry has always thought Kaley is beautiful and the crush before they even met each other was mutual. Now that they're dating, they're completely in lust with each other."
In fact, Kaley even posted a photo via Twitter on June 14 hinting to her relationship with Henry — showing her staring at a Man of Steel poster:
"They are totally hot for each other," a pal told Us Weekly.
A source echoed the sentiment to RadarOnline.com saying, "They're having a lot of fun together and really enjoying getting to know each other."