Exclusive
George Clooney & Stacy Keibler Breakup: How They Tried To Hide Their Split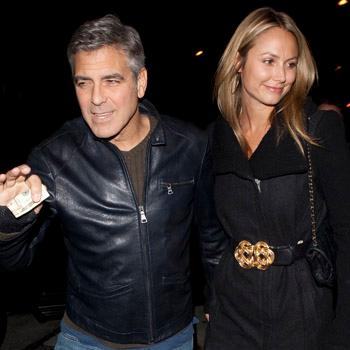 George Clooney and Stacey Keibler have finally admitted that they've broken up and RadarOnline.com has exclusively learned that they tried to hide their split for as long as possible.
"They did break up," a source close to the couple exclusively told RadarOnline.com on Monday, following a months-long gap of not being photographed together.
The source said their "very amicable" breakup was "due to schedules. Nothing more," but it was Stacey's schedule that was blamed last week for their time apart, not their split.
Article continues below advertisement
We first reported that the Oscar winner and his former wrestler girlfriend spent the 4th of July apart but a source close to the couple said that they were still together and only apart due to her hectic work schedule.
On Friday, July 5 the source said Stacey "still lives with George," but they were not spending time together because of her hectic work schedule.
"She isn't in Italy because she is working and shooting in New York and then doing a ton of press for her new show which launches on July 22," the source said.
The 4th of July spent apart was hardly an anomaly for the couple, who haven't been photographed together since March.
When his buddy Mark Whalberg said that George was "single" at the end of May, a source close to the couple dismissed his comments, telling RadarOnline.com that there was no breakup.
"Mark meant that George doesn't have kids. George and Stacy are still together," the source said.
Just days later George was hit with cheating reports when he was spotted in London at a club with his ex-girlfriend, model Monika Jakisic, but he denied the report and said the story was "made up."
Now that they have officially split and George Clooney is back on the market which Hollywood starlet do you think he should date next? Tell us in comments!