George Clooney Denies Cheating On Stacy Keibler With Model Ex- Girlfriend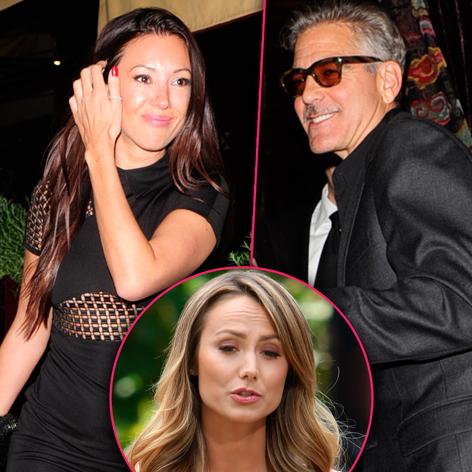 George Clooney has not been spotted with his model girlfriend Stacy Keibler lately and now he's been accused of cheating on her with another model, his ex-fling Monika Jakisic ,but he is flatly denying the charges to RadarOnline.com.
While rumors are rampant that George and Stacy have called it quits, George was "spotted holding hands" with his the Croatian beauty whom he dated briefly in 2007 at Loulou's members-only club in London on Saturday, May 25. He has been filming the movie The Monuments Men in the UK city.
Article continues below advertisement
George, 52, was photographed looking dashing in a dark suit outside the club and Monika was stunning in a short black dress that showed off her gorgeous legs and RadarOnline.com has a gallery of them at the club but they were not snapped together at all.
"They seemed to be having a great old time together," an eyewitness reportedly told In Touch magazine about the actor and the model inside the club.
"He didn't seem to care who saw them. He was being openly affectionate," the eyewitness said about George with Monika.
Clooney immediately dismissed the claim, telling RadarOnline.com: "The story is made up. I wasn't holding anybody's hand. Stop trying to sell magazines by creating scandal that isn't there."
A source close to Stacy told RadarOnline.com also dismissed the report and said that they are still a couple and have not broken up.