Are They Broken Up? George Clooney & Stacy Keibler Spend The 4th Apart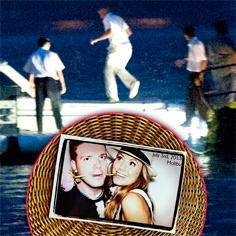 Absences makes the heart grow fonder, but does it also mean that a relationship is over.
George Clooney and Stacy Keibler have denied that they are broken up but the most famous leading man in the world and his model girlfriend spent the 4th of July holiday apart and RadarOnline.com has the photos of them celebrating on different continents.
George was spotted in Italy taking his boat to the Villa d'Este where there were fireworks for the American guests.
Article continues below advertisement
Meanwhile, leggy Stacy shared pictures on her Instagram that showed her partying in Malibu on a date stamped July 3, 2013 photo and then sharing a picture of the California coast on the 4th.
George and Stacy haven't been photographed together since March 16 but a source told RadarOnline.com that they're still together.
"She isn't in Italy because she is working and shooting in New York and then doing a ton of press for her new show which launches on July 22."