Royal Roundup: All The Latest On Prince George Alexander Louis & His Parents!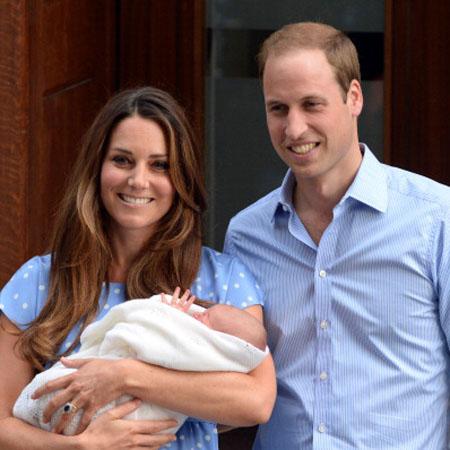 We've got all the latest news on the royal baby Prince George Alexander Louis, as his parents Prince William and Kate Middleton are swimmingly making the transition to mom and dad.
Royal R&R: After a tumultuous few days -- including a media blitz of previously unseen proportions -- Will and Kate are taking "private and quiet time for them to get to know their son," the palace said Wednesday. The royals threw the media a bone Tuesday when they left the hospital in plain sight, showing off the child and answering questions. The couple was reportedly headed to Kate's parents home in Bucklebury.
Article continues below advertisement
What's In A Name: After endless speculation -- and a Super Bowl-worthy number of bets placed -- Will and Kate made it official Wednesday, saying through Kensington Palace they were"delighted to announce" they have named their child George Alexander Louis. The announcement after just two days was rapid in comparison to past announcements, as it took Queen Elizabeth II and Philip a month to announce Prince Charles' radaronline.com/category/tags/prince-charles/ name, and Prince Charles and Princess Diana took a week to announce Prince William's name. George, which was favored by the handicappers, has been the name of six past English kings.
More Meetings: George was introduced to his great-grandmother Queen Elizabeth II and uncle Prince Harry Wednesday, after making acquaintance with both sets of grandparents the day before. The queen, who previously joked she wanted the baby to come sooner than later, is now off for her annual summer vacation to Scotland.
Kate's Evolving Fashion: The Jenny Packham polka-dot dress Kate wore walking out of the hospital Tuesday is likely the first in a line of casual, classy fashions the Duchess of Cambridge will have on display after giving birth, British fashion journalist Hilary Alexander tells People. "Coming out of the hospital, she wore a very simple, pretty dress from one of her favorite designers. She'll stick to an empire line for the first month," Alexander said. "At the moment, in this heatwave in London, the looser, the lighter, the better. It's just too hot for tracksuits -- maybe sleeveless maxi dresses or caftans in pure cotton -- anything that is cool. Something easy to wear … her favorite high street stores: Reiss, Hobbs, Whistles."
Article continues below advertisement
Keeping It Real: Kate leaving the hospital with a noticeable bump has been lauded for sending "the right message" to new moms. Divamoms.com Lyss Stern told the AP that many women often can't live up to the rapid post-labor weight loss displays we've seen by models such as Alessandra Ambrosio or Gisele Bundchen, who emerged "three weeks after childbirth with a flat stomach and G-string bikini -- that's not real." Fitness professional Helene Byrne said she was "thrilled that she went out there like that, because we never see real mommy tummies. She added that "when you see a magazine or photos of new celebrity moms, they're Photoshopped. They're fake! They're a big lie!"
Stay with RadarOnline.com for the latest news on the royal baby!