Farrah Abraham 'Physically Cornered' A Nurse In Rehab, Michael Lohan Claims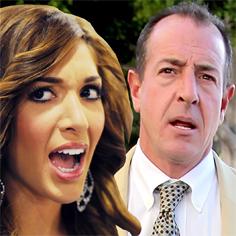 Farrah Abraham's controversial rehab stint was cut short after the unruly reality star thrown out for being "disruptive" and now Michael Lohan has revealed that she "physically cornered" a nurse at the treatment facility.
The Back Door Teen Mom star checked into The Lukens Institute in Florida but was booted out following her outrageous behavior and for the first time Lindsay Lohan's dad explains what transpired to get Farrah ejected.
Article continues below advertisement
"She would go on tirades," Michael Lohan told Jared and Katie in the Morning radio show on 107.5 KZL and RadarOnline.com has the audio of the revealing new interview.
https://media.radaronline.com/brand-img/wp-content/0x0/2013/07/michael-lohan-sets-the-record-straight-on-farrah-abraham.mp3
"She was very abrasive towards staff," Michael said about 22-year-old Farrah.
He is the spokesperson and an interventionist at The Lukens Institute and he described the incident that got Farrah kicked out.
"Especially the nurse at our place. She physically cornered the lady. She cornered the nurse," Michael told Jared and Katie about her shocking behavior.
Farrah denied RadarOnline.com's original report that she was booted out of the treatment center, telling FOX News "My old manager, who is a lying b**ch, said I was disruptive."
https://media.radaronline.com/brand-img/wp-content/0x0/2013/07/farrah-abraham-on-michael-lohan-trayvon-martin-charlie-sheen.mp3
However, Michael calls BS on Farrah's claims and told the radio show: "She was very disruptive at the house. They didn't even want her in the house."