Earth To Amanda! Bynes Claims Drake 'Stalks Me' In Bizarre New Rant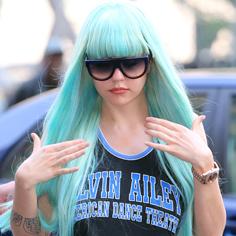 Amanda Bynes is really off her rocker with her latest bizarre rant about her obsession with Drake but this time she's saying that he "stalks her" and that she still thinks he's ugly, of course.
Starting with her typical dig at his looks, Amanda first wrote "Drake Has Ugly Downward Facing Eyes."
Then the 27-year-old former Nickelodeon star dropped the bizarre bombshell about the singer.
"Drake Stalks Me But Isn't Following Me On Twitter He's Ugly And I Won't Stop Making Fun Of His Ugly Face! I Laugh @ Every Photo I See Of Him."
Article continues below advertisement
Just hours after her court appearance where she showed up in a blue wig and sweat pants Amanda was frantically writing about Drake.
"He's Ugly," was first, then "Drake Is Not My Friend Or I Would Not Be Talking About Him This Way."