Pro Football Star Aaron Hernandez: 8 Things You Don't Know About The Murder Case Against Him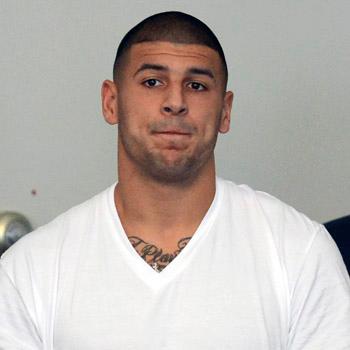 Aaron Hernandez went from rising pro football star to incarcerated defendant facing a first-degree murder charge in blazing speed.
As prosecutors allege that Hernandez, 23, with the help of two other men, shot and killed Odin Lloyd, 27, they've released a trove of circumstantial evidence against the former New England Patriots' tight end.
But even with the case drawing national headlines every day there are key facts most observers are unaware of and some may be crucial in determining the football player's fate. Other information helps paint the full picture of how Aaron ended up behind bars with no bail.
Article continues below advertisement
Here are 8 crucial things to know about Aaron Hernandez and the case against him:
1. Prosecutors have not said who fired the shots that killed Lloyd. While police have used high-tech methods to place Hernandez at the industrial park where Lloyd was killed, they have not said who fired the fatal shots and some observers believe they don't know. Cell phone triangulation, surveillance footage, text messages and other items help place Hernandez and two friends in a car with Lloyd at the industrial park where Lloyd's body was found. He was shot with a .45 caliber Glock .
2. Where's the murder weapon? Hernandez is seen carrying a gun on surveillance tape from his OWN house, after Lloyd is murdered. But cops, despite searching the house several times, have been unable to find the gun.
3. Hernandez may have been afraid of someone. Hints – strong hints – have been dropped that Hernandez was worried someone was after him. While the prosecution has painted him as the mastermind of a scheme to murder Lloyd, some facts don't fit the scenario. Hernandez only recently installed the 14-camera surveillance system at his home. Why? His defense isn't saying –yet.
Article continues below advertisement
4. Surveillance footage at Hernandez's home shows one of the men he was with holding a gun in the driveway, AFTER Lloyd's murder (according to the police timeline). Hernandez isn't seen with a gun in his hand until he's inside the house.
5. How did the mirror on the rental car break? Police are still searching for a side mirror broken off the Nissan Altima that Hernandez rented and was believed to have driven to pick up Lloyd the night of the murder. Surveillance tape shows the mirror on the car before the murder, but it's missing later that day when Hernandez returns the car to the rental agency. What happened to it and how important is it as a clue?
6. Are there fingerprints on the shell casings found at the murder scene? If Hernandez and his pals were amateurish enough to be caught on his own home video, then how likely is it that they would have loaded a murder weapon with enough care not to get their fingerprints on the bullets? Do the shell casings found near Lloyd's body have fingerprints on them? If so, whose prints are on the casings?
7. A sealed affidavit could be crucial. Speculation is that someone connected to the case talked but that is unconfirmed. Did one of Hernandez's pals flip on him? A sealed affidavit exists but there are no reports about what may be in it.
8. The victim was not robbed. Lost in all the publicity about Lloyd's killing is the simple fact he was not robbed. His wallet and phone were found with his body.