Cocaine Ties, New Evidence Found & Still More Victims -- All The Latest On Alleged Killer Aaron Hernandez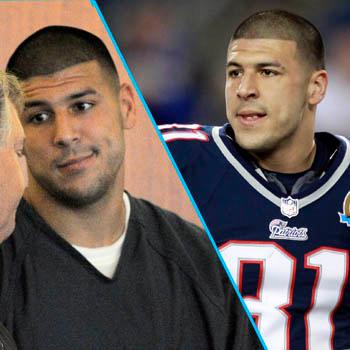 With each day that passes, the future seems to get more bleak for alleged murderer and former NFL star Aaron Hernandez. Hernandez was arrested on June 26 for the first-degree murder of Odin Lloyd. Then came the news he is under investigation for a 2012 murder as well.
Now, Florida police have revealed that he was questioned in the investigation of a 2007 gang-style murder case that is still ongoing. And up in Boston, newly released police documents reveal Hernandez's possible cocaine ties and evidence apparently linking him to the murder.
Article continues below advertisement
Cops searching Hernandez's secret "flophouse" apartment filed a warrant affidavit specifically to search for cocaine, according to the Boston Herald.
Per previous reports, Hernandez failed a drug test while playing for the University of Florida Gators and was a "well-known" pot smoker.
In that same "flophouse," cops say they found a white hooded sweatshirt "consistent in color and type with the sweatshirt that Hernandez is observed to be wearing on surveillance cameras the night of the homicide," the search warrant return says. Cops also found the baseball hat Hernandez was spotted wearing outside a Boston nightclub on the night before the homicide: a cranberry baseball hat with the word "society" written on the front in light blue.
That hat "could help provide the whereabouts of Hernandez on the Friday night before the homicide," Massachusetts State trooper Michael Bates wrote."That night in particular is a critical aspect in the timeline of events leading up to the homicide."
Cops also found 11 boxes of ammunition -- though Hernandez never had a license to carry a gun -- and paychecks from the New England Patriots, who dropped Hernandez the day of his arrest, and Puma, who canceled his contract soon after. Some of the ammunition found was .45 caliber, the same type used to murder Lloyd.
All of this evidence is related to just the 2013 murder. The 2012 murder possibly involving Hernandez is still under investigation, and on Saturday, Gainesville, Florida police confirmed that Hernandez was questioned regarding a 2007 shooting as well.
The 2007 gang-style murder of Corey T. Smith in Gainesvilleoccurred while Hernandez was a football player at University of Florida. He was questioned "very briefly" along with other members of the team, police officer Ben Tobias said. He was not named in the report at the time, as he was a minor at the time, but the report does refer to one suspect as being a "hispanic"-looking University of Florida football player with several tattoos, which could describe Hernandez.