7 New Developments On Prince William & Kate Middleton's Royal Baby!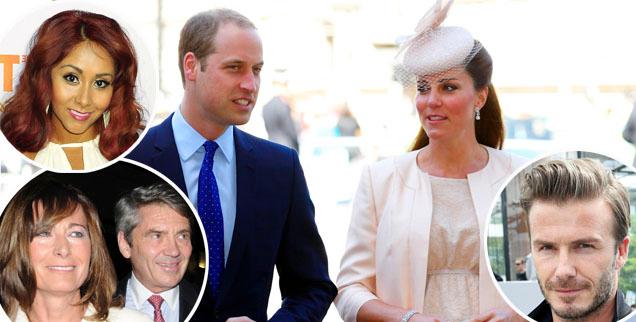 Kate Middleton's expected to give birth any day now to her first child with husband Prince William, and we've got the seven latest developments surrounding the little royal-in-waiting.
Beat The Heat: Kate spent the weekend at her family's home in Bucklebury, Berkshire, as temperatures at London's Kensington Palace got a little too hot to bear, as Saturday's was England's highest temperature of the year at 89.4 degrees. The Duchess of Cambridge, who's due to give birth soon, "decided to spend the weekend with mum and dad -- much more comfortable," a pal of Kate's told US Weekly.
Article continues below advertisement
Blessed By Becks: Speaking with Sky News international sports superstar David Beckham predicted Will and Kate will be "amazing parents because they are so loving towards children. The soccer hunk waxed sentimentally about the prince, who he's been pals with for years. "We've seen William grow from that young boy into an unbelievable gentleman. And that as a father is really important." As for a name? He joked, "David's pretty good ... if it's a boy of course."
Baby Needs A New Pair Of Shoes: The anticipation of the royal baby has brought upon a flurry of exotic wagering that puts Super Bowl Sunday to shame. Paddy Power casino's Rory Scott said, "If you can think of it, we're taking bets on it," and he wasn't kidding, as money can be won or lost betting on everything from the child's gender to weight to name, as well how how mum Kate will deliver, via Caesarean or natural childbirth. "We're British -- it's in our genes," said Scott. "Betting and the royal family … they're about two or three of our most favorite things … it just puts a smile on people's face."
Article continues below advertisement
Private Eyes: As if her waning days of a summer labor weren't enough, Kate was also named in a new report as one of more than 400 potential victims, who reporters for the British leg of Rupert Murdoch's News Corp paid public authorities for classified information on, The Guardian reported. Publications such as The Sun, The Times of London and the Sunday Times also fall under News UK's umbrella. More than 70 people, ranging from reporters to police to health officials, have been arrested in connection with the investigation. Scotland Yard has yet to comment on the report.
Lockdown: St Mary's Hospital's Lindo Wing -- where Will and Kate are set to become parents at -- has incredibly tight security as the royal due date approaches. A radiologist's assistant told People, "There is really tight security now on that ward. We have to sign our names in as we come into the ward and when we leave. Every tea break I will ask around, 'Is she here yet?' It's been the topic of the day for a week now. But we know it's a royal baby, so it's a really big deal and everything has to be really private." Other super-couples such as Jay-Z and Beyonce, and Kim Kardashian and Kanye West, received similar VIP treatment when their little ones were born, as well.
Article continues below advertisement
The Patient Prince: While Prince William spent the weekend playing on a charity polo match with his brother Prince Harry, he was fully ready to be at his wife's side if the situation arose. One of his helpers told US Weekly, "William is relaxed … should Kate go in to labor he will go straight to London with a police escort." If not, the aide said "he will drive to Bucklebury and stay the night at the Middleton's house with Kate."
Advice From Jersey Shore: In case you missed it, Snooki, who became a mom last year, offered up some words of wisdom to Kate about what she called "the most exciting experience of your life." Snooki said initially, she "couldn't wait to wake up in the middle of the night to take care of my little prince Lorenzo. But that lasts for about a few days, then it's like 'I love you but OMG stop crying I'm exhausted.' The lack of sleep you will get used to, just do your make-up, put a tiara on you'll look beautiful as usual." She also advised Kate "to sing to your baby a lot! When I sing to my booger he calms down and stares at me like he's in love which makes me feel amazing, or he's just trying to tell me to shut the hell up because I can't sing. Anyway, music calms them down. I'm pretty sure you can have anyone you want over to sing to your little one … maybe a lullaby from Elton John?"