Exclusive
50 Cent Has Not Spoken To Son -- The Subject Of Foul-Mouthed Text Message Attack -- In Six Months: Source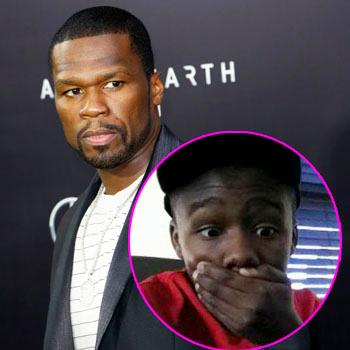 50 Cent was telling the truth when he pledged to disown his 16-year-old son.
The Grammy-award winning rapper has not spoken to Marquise since the January 5 text message tirade, as revealed exclusively on RadarOnline.com, during which he called the teenager "f*cking stupid," a "sh*t head" and a "motherf*cker."
At one point in that foul-mouthed rant, Fiddy admonished Marquise and told him: "I don't have a son anymore."
Article continues below advertisement
"The bottom line is that Curtis 50 Cent's real name Curtis Jackson III has made no effort to contact his son since the attack," a source told Radar.
"He wasn't active in his life anyway, but it speaks to what kind of a father he is that after he sent those mean and vulgar messages, he has made no attempt to apologize or reconcile with his son. He's non-existent. He's an absentee father."
Despite being cut off from his father, the source said Marquise is surprisingly upbeat about the estrangement.
"I think he just copes," the insider said. "He has definitely had moments where he has cried. It really bothered him, initially. And it affected his school work, too. But he's better now."
During the hour-long conversation between 50 and his son, a feud that erupted over a failed custody visit, the 38-year-old singer also demanded Marquise take a paternity test "cause that d*ck s*cking bitch you call mom was f*cking the hole sic time." Marquise's mother is TLC Starter Wives star Shaniqua Tompkins.
Article continues below advertisement
"For a long time, Shaniqua encouraged Marquise to have a relationship with his dad," the source said, "but now she believe that Curtis must get counseling before he sees Marquise again. Any visits would have to be monitored, too.
"She's willing to go a court to do that, if need be. But then again, does she really have to do that when he doesn't seem to want to see him anyway?
"Curtis doesn't have to be an active father, but you most definitely should not bring down your son mentally. He's just a big bully and it's got to stop."
The source added, "Shaniqua doen't care if he's written her off because she left him. But as a parent, you can't write off someone who's your own blood. Anyone can procreate, but it's how you love them when they're a child that matters."
50 Cent has still not apologized for the outburst, but in a series of Twitter messages on Monday, he accused Shaniqua of being the recipient of the messages -- not his son.
"That was his mother texting me as him...She hate me for winning. It's hard to replace me," he said.