Exclusive
Sorry? Not At All! 50 Cent Blames Baby Mama For Text Tirade At Teenage Son, Claims She 'Hates Me For Winning'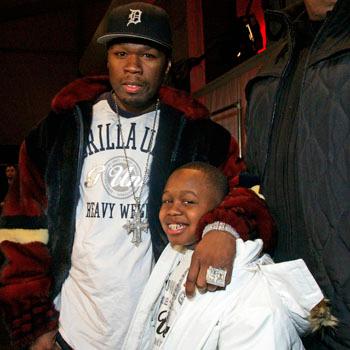 Despite being caught in an expletive-fuelled rant directed at his teenage son, during which he called him "f*cking stupid," a "sh*t head" and a "motherf*cker," Grammy Award-winning rapper 50 Cent is still refusing to apologize for his vile actions.
RadarOnline.com broke the story: The rapper, aka Curtis Jackson III, exploded into rage at his 16-year-old son via text message, hurling a string of obscenities and telling him "I don't have a son anymore."
Article continues below advertisement
In a series of messages posted on Twitter on Monday, the In Da Club singer admitted the texts were sent from him. But he accused his baby mama, Shaniqua Tompkins, of being the recipient of the messages -- not son Marquise, 16.
Throughout the exchange, Jackson repeatedly addressed the recipient as his son, however.
Responding to a fan who questioned why he would snap at a young man, Fiddy wrote: "That was his mother texting me as him. She sold that to a web site. She hate me for winning. It's hard to replace me."
Though RadarOnline.com obtained the text message exchange, sent to Marquise on January 5, we did not pay for the material.
Seemingly undisturbed by the controversy that ignited as a result of his behavior, 50 Cent noted it was "a beautiful day out today" and said he spent it rewriting his will.
"I rewrote my will today now when I pass away all my physical property's and MOST of my money go's sic to charities and TIFFANY LIGHTY so when I'm done she can be 50 Cent," he said.
Article continues below advertisement
Tiffany Lighty is the daughter of Fiddy's late manager Chris Lighty, who was found dead in his Bronx apartment in August, 2012, from an apparent self-inflicted gunshot wound to the head.