Exclusive
'TODAY' Show Morale At All Time Low After Long Time Director Is Demoted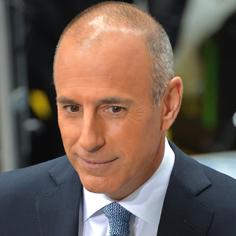 The morale of the beleaguered TODAY Show has reached an all time low after director Joe Michaels, who has held the post for 18 years, was recently demoted, RadarOnline.com has learned exclusively.
Adding to the low morale, sources also say producers are growing increasingly frustrated that Matt Lauer has remained unscathed since Good Morning America became the top rated morning news program.
"It's almost an open joke around the halls of the TODAY offices that Matt Lauer could probably drop an F bomb on the air, and the network would still stand by him. Meanwhile, Joe Michaels, who has been director of the show since 1989, has been demoted. Jim Bell, former executive producer, was also forced out, and no one can forget Ann Curry," a show insider told Radar exclusively.
Article continues below advertisement
"There has been an abnormally high turn over of producers on TODAY, and they have been relying on freelancers, a practice they didn't embrace in the past. There are plans to design a new set, but that isn't going to bring viewers back! It's clear, Matt has to go, but NBC News just doesn't see the writing on the wall."
According to the New York Times, the latest staffing change took Michaels completely by surprise.
"Mr. Michaels was caught off-guard by the change, according to associates of his. The network has yet to name a new director, which is a crucial position in a television control room because the person calls the camera shots and communicates other instructions to the staff," the Times reported.
Michaels has been named senior director, with his new responsibility being the new TODAY show set, which is scheduled to begin in August.
As Radar previously reported, Lauer has been on a rampage with staffers and no one can escape his wrath.
"He is so demeaning to many people on the staff. He is cordial to his fellow hosts and the senior executives but to anyone below him they say he treats them like dirt," a source previously told Radar.
For the first time in 19 years Good Morning America trounced TODAY in the May Sweeps.
Meanwhile, Curry is "just happy to be back on the air again reporting. It took awhile for Annie to get to the place where she is now, but it's a big improvement. She works very well with Brian Williams, and they have professional respect for each other. Ann has moved on from all of the drama of being fired from TODAY," the source said.