Damage Control: Leaked Emails About Matt Lauer Reveal How NBC Hushed Up Kathie Lee's 'He's No Monster' Remark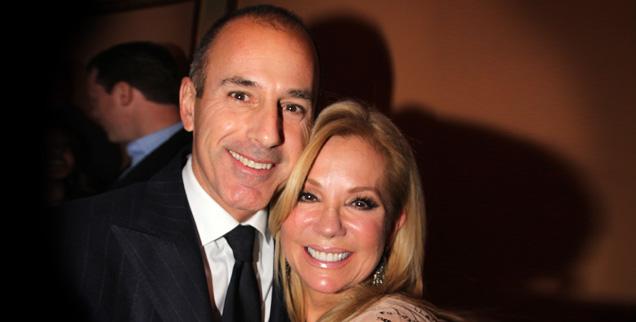 Sagging ratings and bad press can't force TODAY show co-host Matt Lauer to sail quietly into the sunset.
As leaked emails reveal how NBC officials attempted to hush up Kathie Lee Gifford's "He's no monster" remark about her TODAY show colleague, Lauer was spotted taking his new aptly-named yacht Resilient for a sail in the Hamptons over the weekend.
Accompanied by two instructors, Lauer was seen cruising along Sag Harbor Bay in his expensive new boat -- a luxury Hinckley T38, which retails at $1.4 million, without any extras, according to the NY Daily News.
Article continues below advertisement
Lauer appeared to be sending a message with the jet-powered cruiser's moniker in the face of a public backlash following the public ousting of his former co-host Ann Curry last summer.
The boating expedition comes as a series of leaked emails reveal how NBC tried to silence Gifford's attempts at reviving the embattled host's tarnished reputation.
Gifford recently revealed that she was so upset over the criticism directed at Lauer that she almost ran a full-page newspaper ad in his defense, signed by hundreds of his colleagues and friends. Notably absent from the letter was Curry's signature, though Gifford has claimed that Curry was out of the country and never got a chance to sign the letter.
Gifford refrained from publishing the letter after Lauer asked her to "keep it in the family," but it didn't take long for the press to gather wind of its existence.
When Gifford was asked about it at an event hosted by the American Mothers Inc, where she was being honored with the Mother of the Year award, the outspoken TODAY show host told Extra, "Matt is not a monster."
"You know a completely different person than the monster you're reading about in the press," the wine-loving TV personality went on to say.
Article continues below advertisement
Gifford's attempt to defend her colleague raised red flags with NBC execs, who were so concerned with her use of the word "monster," they insisted on cutting it from the clip.
According to a series of internal emails obtained by show insiders, an internal press release was sent out in reference to the clip with Gifford's statements about Lauer, asking, "Is this okay?"
"Yes — no monster bites though," the email response said. "She says he is not a monster — don't think we should use that one."
Heeding the network's instructions, producers for Extra, an NBC property, cut all "monster" references and aired an abbreviated version of Gifford's comments.
"This man we love and respect so much and is handling this beautifully, how about, maybe they'd believe us?" Gifford was shown saying in the edited clip that aired Friday evening. "I think Matt's an honorable man and a consummate professional."
Article continues below advertisement
Gifford isn't the only one coming to Lauer's defense. Former TODAY show anchor Meredith Vieira, who insists she won't be picking up a copy of Brian Stelter's new book Top of the Morning, stuck up for her old co-anchor when asked about the whole Curry debacle.
"Even if NBC blew it from a p.r. point of view, you've got to move on. I think what is happening to Matt is really wrong," Vieira told the New York Post.
Despite the fact that NBC officials insist Lauer had nothing to do with Curry's departure, the host continues to be blamed for forcing his former co-host out and the TODAY show's plummeting ratings. After holding onto the number one spot for over a decade, the TODAY show has slidden to number two in the rankings, as ABC's Good Morning America has taken the lead.