Let's Try This Again, Y'all: Paula Deen Issues Second Apology Video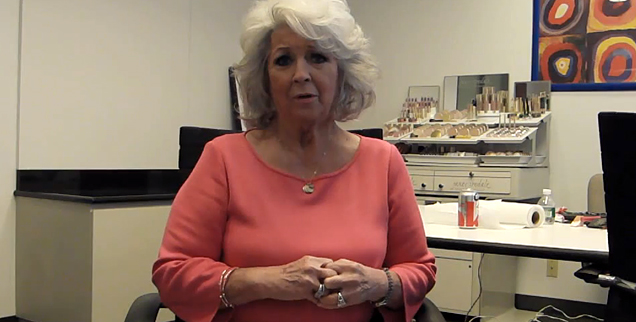 It seems like this week, Paula Deen can't get anything right. On Friday afternoon, she released a second apology video after pulling the first from Youtube when it was widely slammed for being awkward and inauthentic. (That video also followed a written statement that was criticized.)
"After spending all day soul searching and trying to figure out how to deal with what I did, I recorded a video trying to do the right thing," Paula posted on her Youtube page late Friday afternoon, after pulling the initial video. "In the end, Ifelt that I needed to just be myself, say I am sorry and beg for forgiveness."
Article continues below advertisement
In the new video, almost three times as long as her first, Paula directly addresses the camera, saying, "Hello y'all I'm Paula Deen."
Addressing her no-show at TODAY earlier in the day, she told Matt Lauer: "I have to say, I was physically not able this morning. The pain has been tremendous that I have caused to myself and to others and so I'm taking this opportunity now that I've pulled myself together and am able to speak to offer an apology to those that I have hurt."
Reiterating her claim that using the 'N' word does not make her a racist, Paula said, "I want people to understand that my family and I are not the kind of people that the press is wanting to say we are. I've spent the best of 24 years to help myself and others. Your color of your skin, your religion, your sexual preference does not matter to me. But it's what's in the heart and my family and I try to live by that. I am here to say I am so sorry."
"I was wrong, yes," she continues. "I've worked hard and I've made mistakes, but that is no excuse. And I offer my sincere apology to those that I have hurt and I hope that you forgive me because this comes from the deepest part of my heart and I will continue to work and continue to do good things for good people."
She echoed that statement in the caption on the video, writing, "What I said was wrong and hurtful. I know that and will do everything that I can do to make it right. I am not about hate, and I will devote myself to showing my family, friends and fans how to live a life helping others, lifting us all up and spreading love.